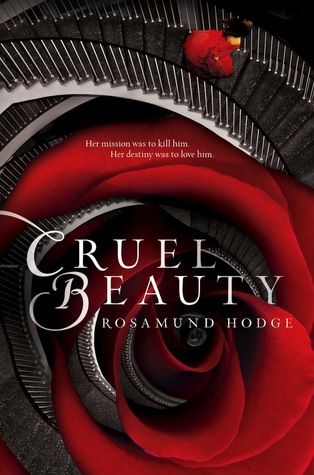 Title: Cruel Beauty
Author: Rosamund Hodge
Release Date: January 28th 2014
Publisher: Balzer + Bray
Synopsis:
Graceling meets Beauty and the Beast in this sweeping fantasy about one girl's journey to fulfill her destiny and the monster who gets in her way-by stealing her heart.
Based on the classic fairy tale Beauty and the Beast, Cruel Beauty is a dazzling love story about our deepest desires and their power to change our destiny.
Since birth, Nyx has been betrothed to the evil ruler of her kingdom-all because of a foolish bargain struck by her father. And since birth, she has been in training to kill him.
With no choice but to fulfill her duty, Nyx resents her family for never trying to save her and hates herself for wanting to escape her fate. Still, on her seventeenth birthday, Nyx abandons everything she's ever known to marry the all-powerful, immortal Ignifex. Her plan? Seduce him, destroy his enchanted castle, and break the nine-hundred-year-old curse he put on her people.
But Ignifex is not at all what Nyx expected. The strangely charming lord beguiles her, and his castle-a shifting maze of magical rooms-enthralls her.
As Nyx searches for a way to free her homeland by uncovering Ignifex's secrets, she finds herself unwillingly drawn to him. Even if she could bring herself to love her sworn enemy, how can she refuse her duty to kill him? With time running out, Nyx must decide what is more important: the future of her kingdom, or the man she was never supposed to love.
Cruel Beauty is one of my most anticipated reads - ever since its release a year ago - as I am a huge sucker for fairytale retellings - especially that of Beauty and the Beast - and the stunning cover of this book demanded a place in my shelf. When I started it, I was expecting it to be a great read, but nevertheless, I was totally taken aback by this enthralling story with unique concepts, multi dimensional characters and a mesmerising world building and writing style.
In a paranormal dystopia world, where demons have taken over the original kings, and the prince of demons - also called as the Gentle Lord - controls the people through his cunning and wicked bargains, Nyx is brought up from a small age to be married to the said lord, as the consequence of the foolish bargain her father struck with him. But she was also brought up to kill the demon prince, trained and educated by an unloving family - in the name of duty - which made her cynical, bitter and wicked at heart. When she marries the Gentle Lord - Ignifex - she finds herself dragged into an enticing, enthralling, confusing and deadly game of magic and curses, while she loses her heart to the man she was supposed to kill on the way.
There were three things that I specifically love in Cruel Beauty. First was the writing style. It's not a secret, that I am a huge fan of unique, beautiful and descriptive writing that make me envision the story in front of my eyes. Rosamund Hodge had such a writing style. Her descriptions were vivid, pace was steady and most of all, her usage of words were stunning. Even the names she has chosen for her characters and places were absolutely beautiful and creative.
"Almost immediately, I found the red door into the library. I opened it idly- and the breath stopped in my throat. It was the same room I remembered: the shelves, the lion-footed table, the white bass-relief of Clio. But now, tendrils of dark green ivy grew between the shelves, reaching toward the books as if they were hungry to read. White mist flowed along the floor, rippling and tumbling as if blown by wind. Across the ceiling wove a network of icy ropes like tree roots. They dripped- not little droplets like the ice melting off a tree but grape-sized drops of water, like giant tears, that splashed on the table, plopped to the floor."
Next was the world building and concept. I was completely blown away by Rosamund Hodge's creativity. She has woven her tale beautifully with a beloved fairytale as the basic story line, greek mythology as the background and her original take on hermetic beliefs as a support to the realm she has created. Cruel Beauty keeps throwing some new revelation at you in every other chapter, so much so that, there's not a single dull moment in the book. I also loved how she has used all three elements of her concept effectively to give us a story rich in it's creativity and story development.
"The fire roared down upon us. It curled through our hair, then wrapped around our wrists and faces, trying to drag us apart. It seared across my skin, hotter than the Heart of Fire, and yet more painful was how it seared through my mind. The fire burned away my memories, taking back his name and mine, both of my pasts and all of my hopes, the sky and the sparrow and the world itself. I clung to somebody I did not know, could not imagine knowing, but I still knew beyond all doubt that he was mine.
We fell until we had been falling forever and always, and always would continue falling, because nothing existed outside this chaos of fire and shadow.
Finally and probably my most favourite aspect, is the characters. It's been some time since I read a book with such complex, multi dimensional and beautifully crafted characters, and I loved reading about them in Cruel Beauty. Nyx is not your stereotypical YA heroine. Not at all. She's cruel, bitter and her heart is filled with hatred and envy. Some readers might find her unlikeable, but I loved her character to bits. She is exactly how I want my YA heroines as. Flawed and unapologetic. The perfect anti heroine, with wickedness and cruelty inside her heart as much as she had kindness and love.
'That's what makes you my favorite.' He reached up and wiped a tear off my cheek with his thumb. 'Every wicked bit of you."
"You fought and fought to keep all the cruelty locked up in your head, and for what? None of them ever loved you, because none of them ever knew you"
Then there was Ignifex. The charmingly dangerous, beautifully wicked and mysteriously alluring Gentle Lord - the prince of demons, bargains and curses. He was a perfect blend of a hero and villain - the perfect anti hero, and the perfect match to the equally complex personality of Nyx. These two characters had so much depth and layers in their characters, that I couldn't help but fall in love with their characterization and portrayal, and somehow the characters themselves, in all their twisted glory.
But that doesn't mean that I didn't have any problems with the story. Truth to be told, I did find a lot of flaws in Cruel Beauty, and personally didn't mind them, but I do want to mention them in the review, as some might not ignore the imperfections as I did while reading the story.
As much as I loved the characters separately, and also thought that they made a good match, I am not exactly a huge fan of the romance in the book. I often felt like it wasn't developed enough, and it was a pity actually, as Nyx and Ignifex had a lot chemistry and sexual tension that had a lot of potential to be terrific slow burn, hate to love romance, but instead, Hodge didn't spend enough effort in developing the romance as much as she did while developing the backstory and plot.
"I still wasn't sure that I loved him. Love—the kind that was holy to Aphrodite—was not something I had ever allowed myself to think about much. If you desired someone, if he comforted you, if you thought he might leech the poison out of your heart, was that love? Or only desperation?"
Then there's also the fact that there is too much information dumped on the reader. I personally appreciate a well crafted world with enough info so that I don't find any loopholes in the plotline, but at times, I couldn't help but notice that, the amount of explaining, flashbacks and old stories were too much and overwhelming and might annoy a reader who enjoys fast paced paranormal stories without too much info dump.
Other than that, Cruel Beauty is an alluring tale, beautifully written and crafted with terrific characters, mesmerizing back stories and interesting takes on mythology and the good old fairytale of the Beauty and the Beast. I would recommend the book to all fantasy lovers who love a dark and gothic take on fairytales an also for readers who like their main characters with a little bit of malice.