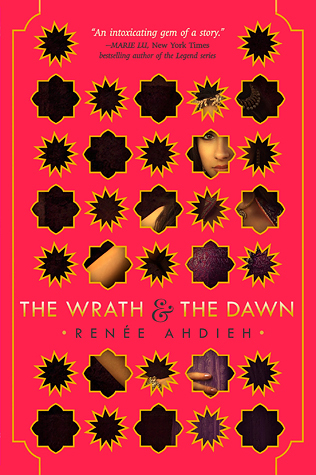 Title : The Wrath and the Dawn
Author: Renee Ahdieh
Release Date : May 12th 2015
Publisher:
G.P. Putnam's Sons Books for Young Readers
Synopsis:
A sumptuous and epically told love story inspired by A Thousand and One Nights

Every dawn brings horror to a different family in a land ruled by a killer. Khalid, the eighteen-year-old Caliph of Khorasan, takes a new bride each night only to have her executed at sunrise. So it is a suspicious surprise when sixteen-year-old Shahrzad volunteers to marry Khalid. But she does so with a clever plan to stay alive and exact revenge on the Caliph for the murder of her best friend and countless other girls. Shazi's wit and will, indeed, get her through to the dawn that no others have seen, but with a catch . . . she's falling in love with the very boy who killed her dearest friend.

She discovers that the murderous boy-king is not all that he seems and neither are the deaths of so many girls. Shazi is determined to uncover the reason for the murders and to break the cycle once and for all.
There were a lot of aspects of The Wrath and the Dawn that drew my attention to this book. First of all, I was intrigued when I heard that the story is inspired by the Thousand and One Arabian Nights. Next is the fact that it was set in Middle East Asia, and I was quite curious to see how the author has dealt with the culture and customs. And then there was the rave reviews, which sang the praise of the writing and the ship. So when one day, I suddenly had a craving to read a book about kings and queens after watching an epic historic movie, and conveniently had a copy of this book in my shelf, I didn't hesitate to dive into The Wrath and the Dawn.
In the fictional land of Khorasan - which is based on Middle Eastern culture - the 18 year old king Khalid is hated by everyone. The king has a habit of marrying a girl every night, only to kill her the next morning. Our heroine, Shahrzad has revenge and murder plans in her mind when she volunteers to marry the caliph - which means king in Arab - and manages to escape from the execution with her storytelling. But as time passes, she gets to know the boy she wants to kill, and somehow, realizes that she's fallen in love with the king she's thought of as a monster all this time.
Before I start my review of this book, I want to make a small comparison between The Wrath and the Dawn and the tale of A Thousand and One Nights. In the original tale, a king, after finding out that his wife was unfaithful, develops a bitter and cynical view on women, and decides to punish all women in his land, by marrying and then killing them the next day. But one day, one of his brides, decides to tell him a story. She ends the night in a cliffhanger, which stops the king from killing her, so that she can continue the story the next day. Likewise, for a thousand and one nights, the woman kept telling stories, ending them in cliffhangers and starting stories within stories. All of these stories had unreliable narrators, complicated situations and morals, and made the king realize the complexity of human nature, and therefore that it's unfair to punish all women for one person's crime, so after his wife finishes the stories, he ends up making her his queen, and stopped his cruel practice.
"After all, every story has a story."
As a child, I read this story in my own language. It was a less mature version of the original story, as they had pretty erotic concepts, but still I was quite fascinated by the entire collection of A Thousand and One Arabian Nights. It was probably one of my favourite reads ever as a young girl! So when I heard that this book is inspired by that tale, I was actually a bit wary. To be honest, I thought that this book is going to tell the exact same story in the name of a retelling. But rather, The Wrath and the Dawn only took the main concept of the good old tale, and Renee Ahdieh, has taken a totally fresh and unique spin using the world, concept and premise of the Arabian Nights and has given us a beautiful, amazing and mesmerizing rendition of the original tale.
One of the best things about the book is the writing style. It's wide knowledge that I am a sucker for vivid and beautiful writing, and Renee Ahdieh's is one of the best I've ever encountered. With her graphic and descriptive storytelling, she brings all the aspects of Middle Eastern Culture in front of our eyes. The way she describes places, food and clothes paints a perfect picture of the lifestyle and culture, whereas, she also excels in describing feelings and situations beautifully!
Next is the wonderful, incredible characters. I loved all of them! Shahrzad was a combination of everything I adore in a fantasy heroine. She was brave, loyal, confident, outspoken and most of all, was capable of making her own decisions without making excuses or blaming anyone. She was also snarky and never took "no" as an answer. She was basically a force to be reckoned with and an awesomesauce heroine!
"I never lose, nor am I afraid to spill blood."
"So you would have me throw Shazi to the wolves?"
"Shazi?" Jalal's grin widened. "Honestly, I pity the wolves."
Khalid, my poor baby! My heart broke for this boy, who had so much on his shoulders at such a young age, with really few people around him who actually understood his feelings and desires. He struck a chord in my heart from the first few chapters itself, and as the story progressed, my heart broke for this vulnerable, lonely and misunderstood king who yearns for love and understanding.
There were also a great batch of secondary characters! Jalal, Khalid's captain of the guard and his cousin, was such a sweet and smooth guy who was also a great friend to both the main characters! And Despina, Shazi's cool and incredible handmaiden. I loved this girl, and her sassy and quirky personality. And I am rooting for both of them as a couple as well, they're so adorable together!
"It was a vain attempt at indifference, on both their parts.
For Shahrzad bore silent witness to the truth. It was only for an instant, and they never glanced at each other. Yet, she wondered how anyone could miss it—the subtle shift in Jalal's shoulders, and the telltale tilt to Despina's head.
Shahrzad smiled knowingly."
The people Shazi left behind at home were a bit more complicated. There was Tariq - Shazi's childhood sweetheart, who was determined to bring her back, even after he realizes that she didn't want to come back. At first, I felt sorry for this guy, and actually liked him a lot, to be honest, especially his unique relationship with his pet falcon. But later, he started to annoy me, and his love for Shazi became more of an obsession rather than a true feeling. Shazi's father was weird, and not in a cool way either. I am a bit uncomfortable with this man, to tell the truth.
And we come to the best part. THE ROMANCE. * sighs * The love story of Khalid and Shazi gave me all the feels, and drowned me in said feels, while breaking my heart to pieces as I kept on shipping these two as if my life depended on it. Their romance is adorable, beautiful, passionate and god damn amazing! It was a gradual slow burn romance, with denial and failed-attempts-at-resistance from both parties, and it made me feel all the possible feels, so much so that, I was completely drained out of my energy and a was left as a bundle of emotions when I finished the book.
"
I love you, a thousand times over. And I will never apologize for it.
"
"She shook her head, though her shoulders trembled and her nails dug into her palms. "You are ridiculous, Khalid Ibn al-Rashid. I am just one girl. You are the Caliph of Khorasan, and you have a responsibility to a kingdom."
"If you are just one girl, I am just one boy."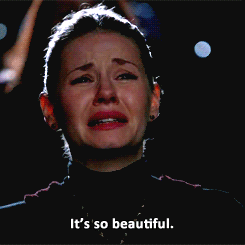 "When she wound her fingers in his hair to draw her body against his, he stilled for breath, and she knew, as he knew, that they were lost.
Lost forever. In this kiss. This kiss that would change everything."
"In your honesty, I saw a reflection of myself. Or rather, of the man I longed to be. So I failed you. I didn't stay away. Then, later, I thought if I had answers, it would be enough. I would no longer care. You would no longer matter. So I continued failing you. Continued wanting more.
And now I can't find the words to say what must be said. To convey to you the least of what I owe.
When I think of you, I can't find the air to breathe."
If you haven't read this book yet, I suggest that you go get a copy of it as soon as possible and read this beautiful and enthralling story! It's a must read that shouldn't be missed, but at the same time, be prepared to be drowned in feels! I had to nurse a broken heart, a major book hangover, and am dying to read the sequel, and get to know what's in store for my new favourite fictional couple.