d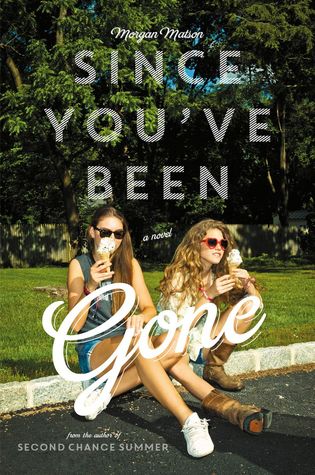 Title: Since You've Been Gone by Morgan Matson
Release Date: May 6, 2014
Publisher: Simon & Schuster
Source: Borrowed
It was Sloane who yanked Emily out of her shell and made life 100% interesting. But right before what should have been the most epic summer, Sloane just... disappears. All she leaves behind is a to-do list.
On it, thirteen Sloane-inspired tasks that Emily would normally never try. But what if they could bring her best friend back?
Apple picking at night? Okay, easy enough.
Dance until dawn? Sure. Why not?
Kiss a stranger? Um...
Emily now has this unexpected summer, and the help of Frank Porter (totally unexpected), to check things off Sloane's list. Who knows what she'll find?
Go skinny-dipping? Wait... what?
PRAISE THIS GLORIOUS BOOK.
Morgan Matson, you've done it again! You are officially one of my most favorite YA contemporary writers out there because I love every single book you've ever written. After having finished Amy & Roger's Epic Detour and Second Chance Summer, I was bound to read this book next. And after waiting for so, so long, I am glad to say I am not disappointed.

In all honesty, I think I like this book as much as I love Amy & Roger. It was light, fluffy, and fresh enough to read. It fit my everyday mood pretty well!

Since You've Been Gone revolves around the friendship between Emily and Sloane. Emily is very dependent on Sloane and would often follow her style, but one day when Sloane disappears without a word, Emily finds herself going through life without her best friend. With only a list from Sloane for her to follow, we see her thrive to find a way to find her friend by following Sloane's list, thinking that it would help her find her.
"Real friends are the ones you can count on no matter what.
The ones who go into the forest to find you and bring you home.
And real friends never have to tell you that they're your friends."
What I loved most about this book was the FRIENDSHIP.
I loved seeing the friendship between Emily and Sloane! It was so beautiful to see that, despite their differences, they were able to become really close friends eventually. It made me see the value and importance of friendship in our lives, and how it could shape us as we continuously grow.
Emily Hughes was an amazing protagonist! Although I was slightly irritated by the fact that she was completely reliant on Sloane and could not seem to get through without her, I loved how daring she was throughout the book. Emily does, in fact, follow Sloane's list, and reading about her doing them made me appreciate how willing she was to complete them in order to find her best friend.
"All the stuff you can't wait to get away from, until it's not there anymore, and then
you miss it like crazy."
One of the aspects that made me love Since You've Been Gone so much was the CHEMISTRY between Emily and Frank, and the new friendships that Emily created with other people apart from Sloane.
As Emily continues the list, she creates new friends -- one of which is a boy named Frank. Cute senior boy and class president. She also meets new people named Collins and Dawn, and watching her slowly leave her position as "Sloane's Shadow" greatly affects her character development. Because Emily develops very well in this book. Leaving behind the idea of being Sloane's Shadow makes her come off as an independent person -- no longer reliant and hidden. Instead, outgoing and open.
Watching her befriend Collins and Dawn, and actually developing a little chemistry with Frank (who is PERFECT for Emily *cough*) made me like her more. Matson did an amazing job turning Emily into a much stronger person than before! I loved it so much!
I highly recommend this book to all lovers of contemporary novels (light, fluffy, fresh, and cute... those kinds!). If you've read Amy & Roger or Second Chance Summer, you have to give this one a try as well!