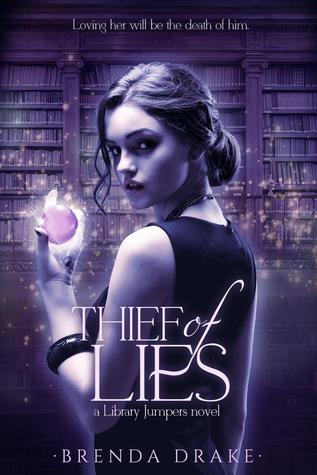 Title : Thief of Lies
Author : Brenda Drake
Release Date : January 5th 2016
Publisher : Entangled Teen
Synopsis:


Gia Kearns would rather fight with boys than kiss them. That is, until Arik, a leather clad hottie in the Boston Athenaeum, suddenly disappears. While examining the book of world libraries he abandoned, Gia unwittingly speaks the key that sucks her and her friends into a photograph and transports them into a Paris library, where Arik and his Sentinels—magical knights charged with protecting humans from the creatures traveling across the gateway books—rescue them from a demonic hound.
Jumping into some of the world's most beautiful libraries would be a dream come true for Gia, if she weren't busy resisting her heart or dodging an exiled wizard seeking revenge on both the Mystik and human worlds. Add a French flirt obsessed with Arik and a fling with a young wizard, and Gia must choose between her heart and her head, between Arik's world and her own, before both are destroyed.
A copy was provided by the publisher in exchange for a honest review.
It didn't take me long to add this book to my TBR as soon as I saw the blurb. I mean, come on, jumping libraries? a tomboyish MC? Sign me up! I was undoubtedly excited for the book, and its fresh concepts, and let's see whether Thief of Lies satisfied my expectations.
Gia is a tomboyish bookworm. One day, while hanging out in the library with her best friends - Nick and Afton - she sees a guy disappear into nowhere suddenly, leaving a book behind. Intrigued, she checks out the book in question, speaks the key unintentionally and drags herself and her friends into the book and into a world of magic, mystery, action, romance and lots and lots of library jumping.
Thief of Lies was refreshing in a lot of ways. I loved the unique concept - the world of Mystiks - which featured Sentinels, who guard libraries and save the world from deadly creatures which roam libraries - who said libraries are safe??? :D -wizards, fey, shifters, wraiths etc. I also love the form of magical weapons in the book - which were globes, and each Mystik was able to wield a special one. Drake's imagination and creativity was really remarkable in the way she spun her world building and how she made us travel a lot of libraries around the world.
But unique concept or not, the book was also full of cliches. Human girl dragged into a new magical world, chosen one, prophecies, forbidden love, gorgeous evil girl, potential for love triangle, MC's past life is filled with lies, quests to find the "key" - well, you get the picture, right? But at the same time, I think Thief of Lies was saved from being stereotypical because of its concept, and Drake's unexpected plot twists and new revelations time to time, which also kept the story fast paced and interesting.
Characters. Well there were a loooot of them. Gia was a great MC. She was a bookworm - which immediately gives her bonus points :D - she was stable, smart and most of all, she knew when to stay behind and when to fight. She was brave, clumsy and over all, a pretty interesting character.
Now the side characters.... Well, tbh, I thought there were too many of them. Which also led to a lack of character development in the minor characters, and everyone of them only got a little amount of screen time. I felt like Drake didn't spend enough pages developing the side characters, as much as she did with Gia.
Even Arik, the love interest, didn't seem so special to me. I mean, he was hot, protective, brave and total boy friend material, but he was.....just there. As if the whole purpose of his character was to have a love interest for Gia. And then there was their romance. *sighs* It was a bit insta-love-y and I didn't get their chemistry at all. In addition there was even another guy - hinting a love triangle. Long story short, romance was not the book's strong point, and I hope that it is developed more in the sequels.
The rest of the characters - Gia's friends, the rest of the Sentinels, the wizards, her father, stepmother, professor, the villain - all needed more depth, like I mentioned above. I sincerely hope that Drake puts some effort in this in the sequels, because even without depth, this book had an awesome batch of side characters, so with more development, they will be positively glorious!
I'll recommend this book to fantasy lovers, and those who adore unique concepts and bookworm heroines. But if you're a perfectionist with regards to plot holes, irrelevancies and info dump, you should probably lower your expectations a bit, because as much as I loved this book's potential, its execution could have been much better, which I am hoping will be done in the sequels.