It isn't a surprise that I love villains to death! One thing I love more than the portrayal of nefarious and unsympathetically evil bad guys is their backstories. A look into their troubled, broken souls and an insight on their path to darkness.
Today, on the release day of Blackhearts, the backstory of the notorious pirate Blackbeard, I want to list out some of my favourite classic villains whose backstories I'd adore to read in YA fiction.
Before we get to the list, here's everything you need to know about Blackhearts!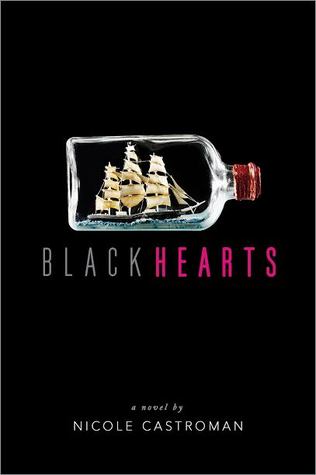 Title : Blackhearts
Author : Nicole Castroman
Release Date : February 9th 2016
Publisher : Simon Pulse
Blackbeard the pirate was known for striking fear in the hearts of the bravest of sailors. But once he was just a young man who dreamed of leaving his rigid life behind to chase adventure in faraway lands. Nothing could stop him—until he met the one girl who would change everything.
Edward "Teach" Drummond, son of one of Bristol's richest merchants, has just returned from a year-long journey on the high seas to find his life in shambles. Betrothed to a girl he doesn't love and sick of the high society he was born into, Teach dreams only of returning to the vast ocean he'd begun to call home. There's just one problem: convincing his father to let him leave and never come back.
Following her parents' deaths, Anne Barrett is left penniless and soon to be homeless. Though she's barely worked a day in her life, Anne is forced to take a job as a maid in the home of Master Drummond. Lonely days stretch into weeks, and Anne longs for escape. How will she ever realize her dream of sailing to Curaçao—where her mother was born—when she's stuck in England?
From the moment Teach and Anne meet, they set the world ablaze. Drawn to each other, they're trapped by society and their own circumstances. Faced with an impossible choice, they must decide to chase their dreams and go, or follow their hearts and stay
.
To celebrate the release of this pre pirate origin story, the lovely Stephanie @ Chasm of Books, has put together a release party, teaming up with fellow bloggers who read and loved the book. When I got the chance to to celebrate the release, I couldn't help but use it to flail about my love for villains! :)
Regardless, Blackhearts is an amazing story that you all have to read!!! In case you need more convincing, hop over to my review and don't forget to get yourself a copy of Blackhearts!
Also, don't forget to grab the hashtag #prepiratenation and join in the release celebration!
Now onto those villains I'd love to know the backstory of!!!
The Joker

My favourite Batman villain and one of my favourite bad guys ever, the Joker is a complicated, twisted and spectacular villain. While he does have a backstory in the comics, I want to know his descent into madness step by step. My favourite version of him is Heath Ledger's portrayal in The Dark Knight - the fact that he doesn't have an actual motive in that film makes him more dangerous and fascinating, and I'd love to see his younger version. I want to see the chaos that surrounds him and the method to his madness.
Erik a.k.a The Phantom
All we know of this guy is that he is a deformed but brilliant performer who has an obsessive love for Christine. But what happened to him? What or who made him into the person who he is? Where did he get that amazing talent? What caused his tragic fall? It would be a gripping tale to know for sure!
Harley Quinn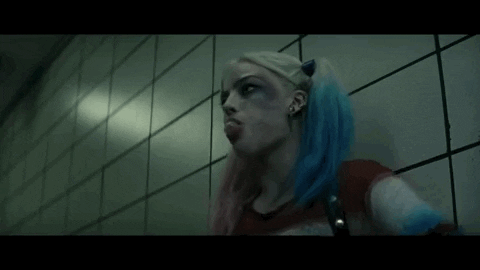 I am obsessed with Batman villains :D Harley Quinn's backstory is one that begs to be told. A former intern in an asylum, her slow deterioration into a mentally unstable character with questionable morals and an unhealthy love towards the joker would be a dark yet fascinating tale to read.
Queen Grimhilde
One of the best Disney villains, the evil queen from Snow White is beautiful, deadly and wonderfully wicked. It would be interesting to know this queen's backstory, as her obsession with vanity and her insane desire to be the best couldn't have been born out of nothing. She would make an awesome villain protagonist.
Hannibal Lector
He is a villain who makes me nervous as much as he fascinates me. A sophisticated cannibal, there are enough interpretations of him both in television and on film, but I would kill to read a YA adaptation of his story. It would be truly terrific!
Jadis the White Witch
Okay so we know that she's a powerful sorceress. That she's wicked. That she has powers that will make us shiver - literally. But what does she have against Narnia??? And poor Aslan? Unless she had a hatred towards lions, there's no reason for her to capture Narnia. What is her story? Who was Jadis before she became the white witch?
What's a party without cake? Or rather giveaways??? We have two exciting giveaways for you all!
Giveaway #1
US Only
Giveaway #2
International
Who are your favourite villains whose YA backstories you'd love to read??? And have you read Blackhearts? If you haven't, what are you waiting for???? Go get a copy!!!