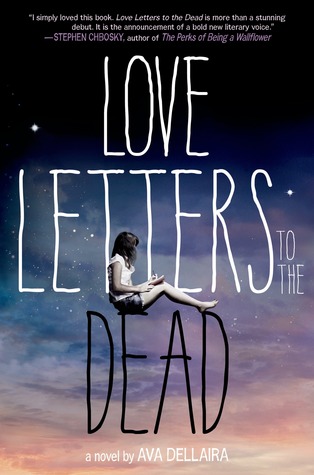 Title: Love Letters to the Dead
Author: Ava Dellaira
Publisher: Farrar, Straus and Giroux
Release Date: April 1, 2014
It begins as an assignment for English class: Write a letter to a dead person.
Laurel chooses Kurt Cobain because her sister, May, loved him. And he died young, just like May. Soon, Laurel has a notebook full of letters to the dead -- to people like Janis Joplin, Heath Ledger, Amelia Earhart, and Amy Winehouse -- though she never gives a single one of them to her teacher. She writes about starting high school, navigating the choppy waters of new friendships, learning to live with her splintering family, falling in love for the first time, and, most important, trying to grieve for May. But how do you mourn for someone you haven't forgiven?
It's not until laurel has written the truth about what happened to herself that she can finally accept what happened to May. And only when Laurel has begun to see her sister as the person she was -- lovely and amazing and deeply flawed -- can she truly start to discover her own path.
In a voice that's as lyrical and as true as a favorite song, Ava Dellaira writes about one girl's journey through life's challenges with a haunting and often heartbreaking beauty.
If you had lost your sister in the hunger of the dark, what would you do? Learning the facts about yourself, discovering only the most hurtful part of the past for a newer and deeper understanding of the present... And the only way you'd think you'd be able to let go of yourself and of everything that barred you down was when you wrote letters. For the dead.
Because that's what Laurel did.
Recently, Laurel has lost her older sister, May, which left her scarred, heartbroken, and traumatized. May was everything to her -- a guardian angel, a role model, and a beautiful person all underneath the flaws she carried around. Until an occurrence of a terrible incident transpired, all Laurel could think of was May.
Her dead sister.
Her dead angel.
Her everything.
And all Laurel wants is to have her sister back, reverse what happened, and live a normal life -- notwithstanding, of course, the tearing relationship her family is undergoing. But what could she do? All she could is live her life as if it were normal again... and write letters to dead, which -- she can't lie -- did help attenuate her pain.
As heartbreakingly beautiful this book was, I was touched, yet underwhelmed. I love the idea of the book, and most especially the beautiful and lyrical writing that this book had brought about. I loved how the prose of the novel was written in letter format and how I got to see so much of Laurel's pain over the death of her sister.
Moreover, I enjoyed reading through the struggles she faced in overcoming May's passing while simultaneously undergoing the tearing relationship of her family and the concept of "fitting in" in her high school.
Basically, throughout the entire book, Laurel was a mess. In spite of her very weak character in the book, I appreciated her weakness. It made me realize that human realities can really make a person weak, and sometimes it's okay to admit that you can't be strong enough. Strong people can be weak sometimes; it takes a matter of acceptance to grasp that thought entirely, and simply move on.
I was, however, underwhelmed over the flow of events. To me, it felt like a typical high school story with a whole bunch of high school cliches that didn't impress me one bit. It was just those cliches that I didn't enjoy, and a bunch of whole other aspects that simply didn't come to my liking. But I did like the story, and I applaud Dellaira for a well-crafted novel. The writing was definitely beautiful and gripping that I had my nose into the book most of the day. I loved how the words sounded in my head and how they were perfectly woven together to make such a dark and beautiful book.
I definitely recommend this book to several other YA readers out there who are interested in the idea of family, friends, and relationships. Love Letters to the Dead does not only delve into how Laurel feels about her sister, May, but also does it delve into the friendships that grow, the family that could tear apart but still be together, and the relationships that last.