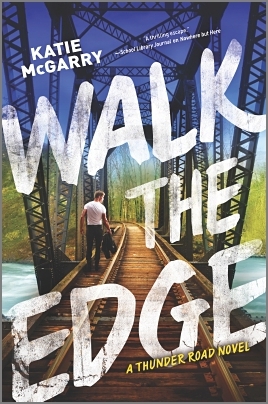 Title : Walk the Edge
Author : Katie McGarry
Release Date : March 29th 2016
Publisher : Harlequin Teen
Synopsis :
One moment of recklessness will change their worlds.
Smart. Responsible. That's seventeen-year-old Breanna's role in her large family, and heaven forbid she put a toe out of line. Until one night of shockingly un-Breanna-like behavior puts her into a vicious cyber-bully's line of fire—and brings fellow senior Thomas "Razor" Turner into her life.
Razor lives for the Reign of Terror motorcycle club, and good girls like Breanna just don't belong. But when he learns she's being blackmailed over a compromising picture of the two of them—a picture that turns one unexpected and beautiful moment into ugliness—he knows it's time to step outside the rules.
And so they make a pact: he'll help her track down her blackmailer, and in return she'll help him seek answers to the mystery that's haunted him—one that not even his club brothers have been willing to discuss. But the more time they spend together, the more their feelings grow. And suddenly they're both walking the edge of discovering who they really are, what they want, and where they're going from here.
This review is part of the blog tour hosted by Ink Slinger PR. An ARC was provided in exchange of a honest review.
Katie McGarry has done it again. As an avid reader of her books - I haven't missed a single one, ever since I read Pushing the Limits back in 2012 - I am continuously amazed by how she weaves all her stories around one single basic trope - opposites attract. Still, her stories never get repetitive, she brings a new twist and fresh rendition with each book, along with a prominent social issue thrown into the mix, and Walk the Edge doesn't miss on any of these trademarks, along with being - in my opinion - one of her best novels since PTL.
Razor is haunted by his mother's death. His relationship with his father is complicated, his loyalty to the Reign of Terror is suffering because of old ghosts and new doubts and he is bent on figuring out the mystery behind the death of his mother.
Breanna longs to escape her small town. To outsiders, she's the smart, perfect student and daughter, while in the inside, she's restless, and her brain is chaotic. She feels out of place among her 8 siblings, and struggles to open up about herself to anyone.
When Razor's and Breanna's paths cross, they become the target of a cyber bully, get involved in a puzzle which unlocks the hidden truths of Razor's childhood and they both fall for each other, despite their differences and society's prejudices.
"The boy everyone sees but nobody knows is with the girl who everybody knows but nobody sees."
Breanna was a sweetheart! The 5th of nine children, she feels like an outsider in her family, with an older sister who hates her, younger siblings she can't relate to yet forced to play mother to, dirty dishes waiting for her everyday and parents who expect her to be the "responsible girl". She is also incredibly smart, but it comes with consequences. Her brain continuously craves a challenge, and the lack of one makes her go insane. I loved this girl so much! The way her brain worked was fascinating, and she was such a relatable, sweet and strong character. I felt so bad for the way she was treated at times, but the way she stood up for herself, her values and her love made me admire her so much.
I have already fallen in love with Razor when I first met him in Nowhere But Here. When I reached the end of that book, and discovered that Walk the Edge would be his story, I was unbelievably delighted! Razor is your typical troubled, emotional, vulnerable, tough and sinfully hot bad boy love interest. But the deep love he had for his mother, his insecurity regarding his relationships and his huge heart and beautiful soul made him all the more special.
"I incline my head and assess Razor. All of him. Not just his body and beauty or the threatening cut and the patches sewn onto the leather, but his collapsed posture and the desperation in his eyes.
Their romance was perfect. Razor's and Breanna's romance had a lot of understanding, trust and mutual admiration along with their physical attraction. Razor's protectiveness combined with Breanna's acceptance, mixed with their sizzling chemistry and sexual tension made the love story an amazing one.
"Most people avoid me, easily leaving two feet between us, and here is this little warrior trudging into battle without armor.
Terrified I'll break her, I weave my arms around her and hug her back. My eyes shut when she settles furthering into me. I rest my cheek on her head and simply breathe."
The concept of family played a huge role in Walk the Edge. Razor's relationship with his father was bittersweet while Breanna's family situation was less than appealing but far more realistic than most family portrayals in YA. We could see how big families meant forgotten rides, fights, sibling rivalries and the unfair order of priorities.
Another major concept dealt in the book was cyber bullying. Katie showcases how a private picture or a captured moment open to interpretation posted on the internet can ruin one's life, future and dreams. How it can act as a weapon of blackmailing. It was a scary and enlightening thing to read about, and made the story more intense and powerful.
I'll recommend Walk the Edge to all fans of Katie McGarry, and all those who love a good old bad boy - good girl romance. Walk the Edge is romantic, emotional and comes with its share of swoons, and I am sure all contemporary fans will enjoy the story of Razor and Breanna.
Giveaway
a Rafflecopter giveaway
Grab your copy of WALK THE EDGE Here: