Hi bookworms! :)
Today, I am featuring one of my favourite LGBT lit authors - Adam Silvera! Adam's debut More Happy Than Not was beautiful - it broke a lot of hearts, but in a good way - and his new book, History is All You Left Me - out on Jan 2017 - is currently drowning me in feels! Plus Adam is hands down one of the sweetest authors I've ever met - online and in real life - and I m so happy to be featuring him on the blog today!
Mish : Tell me 5 random facts about you.
Adam :
I have a heart-shaped scar on my hip from a childhood injury. It's a little deformed now but it was once the shape of a Valentine's Day heart, not an anatomically correct heart.
I'm obsessed with buying and wearing boots, even in the summer.
I'm SO messy. And I'm pretty okay with that.
I'm obsessed with even numbers so on that note, I'm going to stop here and not deliver a fifth fact ;)*

* I am noticing this in Griffin - the MC of History is All You Left Me - right now!!! This is amazing!
Mish : You drowned a lot of readers in powerful feels with More Happy Than Not. Is History Is All You Left Me ( I LOVE THE TITLE, BTW!!! ) going to be equally emotional? What are we supposed to expect from the novel?
Adam : Thank you! I'm a fan of the title too. It was originally titled something else but then I wrote a sentence in the first chapter and the title was born. As for the emotional stuff, YES. I think it's possibly even more emotional than More Happy Than Not. You get a break from all the grief in the TODAY sections because of the HISTORY sections where we get to see the narrator's ex-boyfriend alive, but that only makes you ache more in the present-day chapters. Hopefully.*
* Well, I can second this answer. THIS BOOK IS WRECKING ME!!!!
Mish : You're one of the most popular figures of the #ownvoices* campaign. How is it like to write characters and stories which are strongly reflected by your own life?
Adam : That's sweet, thank you. I've always written honestly and I'm truly grateful for everyone who's fought to make deserving books more visible. Readers seeing themselves reflected and learning about other identities is crucial to Real Life, not just the books we're reading. It's great that books can kick off that conversation and leave a mark on readers, but we have to help get them out there first. I hope I'm doing my part.
*#ownvoices is a campaign that focuses on recommending titles about marginalized group of people by authors in those groups.
Mish :
I just love love your post "Happiness Isn't Just an Outside Thing". As someone who has gone through depression myself, it made such a huge impact on me. What would you like to say to those who are dealing with it right now?
Adam : I hate that you've dealt with it too, but I'm happy my experience helped you in some way. Depression is hard. I'm still dealing with it frequently and constantly reinventing my life to push any ugliness out. We all deal with it differently, but my advice is always find your People or find your Person you can talk to whenever you're feeling off. Someone you can trust more than yourself when things are rough.
Mish : What advice would you give to teens who are struggling to come to terms with their sexuality?
Adam : Sexuality is VERY confusing. I'm 26 as of this month and identity as gay, but I'm still figuring myself out. I thought there was a chance I couldn't be bisexual because growing up I always heard things about bisexuality for men is just a safe place to start admitting you're gay without losing some shades of masculinity. That's garbage wisdom. But it was easy for me to buy into this because I've always felt a stronger attraction for men, but that doesn't mean I don't have attraction for women too. I sort of identity myself right now as 80% homosexual and 20% heterosexual because I realized bisexuality doesn't have to be some 50/50 even split. ALL OF THIS TO SAY that you're constantly going to be rediscovering yourself, no matter the age, and it's a beautiful thing and very much worth exploring for your personal happiness.
That was beautiful Adam! Thanks a lot for those answers and for taking the time to chat with me and my readers!
Also you guys! You NEED to read his books asap! Buy yourself a box of tissues along the copy and start reading! Also fair reminder that I am officially adding Adam to the list of authors I am not going shut up talking or flailing about! #sorrynotsorry This is what happens when I fall in love with books and their writers! :P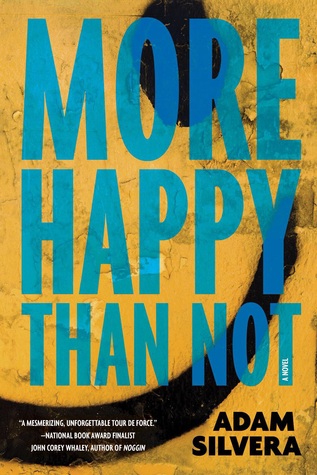 Title : More Happy Than Not
Author : Adam Silvera
Release Date : June 2nd 2015
Publisher : Soho Teen
In his twisty, gritty, profoundly moving debut—called "mandatory reading" by the New York Times—Adam Silvera brings to life a charged, dangerous near-future summer in the Bronx.
In the months after his father's suicide, it's been tough for 16-year-old Aaron Soto to find happiness again--but he's still gunning for it. With the support of his girlfriend Genevieve and his overworked mom, he's slowly remembering what that might feel like. But grief and the smile-shaped scar on his wrist prevent him from forgetting completely.
When Genevieve leaves for a couple of weeks, Aaron spends all his time hanging out with this new guy, Thomas. Aaron's crew notices, and they're not exactly thrilled. But Aaron can't deny the happiness Thomas brings or how Thomas makes him feel safe from himself, despite the tensions their friendship is stirring with his girlfriend and friends. Since Aaron can't stay away from Thomas or turn off his newfound feelings for him, he considers turning to the Leteo Institute's revolutionary memory-alteration procedure to straighten himself out, even if it means forgetting who he truly is.
Why does happiness have to be so hard?
When you order from
Books of Wonder
in NYC, you'll receive a signed copy (can be personalized if you'd like!).
Title : History Is All You Left Me
Author : Adam Silvera
Release Date : January 17th 2017
Publisher : Soho Teen
Synopsis :
OCD-afflicted Griffin has just lost his first love, Theo, in a drowning accident. In an attempt to hold onto every piece of the past, he forges a friendship with Theo's last boyfriend, Jackson. When Jackson begins to exhibit signs of guilt, Griffin suspects he's hiding something, and will stop at nothing to get to the truth about Theo's death. But as the grieving pair grows closer, readers will question Griffin's own version of the truth—both in terms of what he's willing to hide and what true love means
This book's title has to be one of my all time favourites, hands down! It's beautiful and suits the story perfectly! I am currently reading it, and it's breathtakingly beautiful! And sad! My review might be up soon, despite it being really early, because I can't wait to talk about it's awesomeness!!!!
About Adam Silvera
Adam Silvera was born and raised in the Bronx. He has worked in the publishing industry as a children's bookseller, marketing assistant at a literary development company, and book reviewer of children's and young adult novels. His debut novel,
More Happy Than Not
, received multiple starred reviews and is a
New York Times
bestseller. He is tall for no reason and writes full-time in New York City.
Find him at :
Mishma's note - He's also absolutely adorable and sweet! I had a chance to meet him at BEA and he totally made my day, and it says a lot considering that I was extremely tired and spent by the time I met him! Here's a pic of him and me, because I just wanted to share it! :P
Hope you guys enjoyed the interview! Have you read More Happy Than Not? How did you like it? Have you met Adam? Isn't he the best???