Hi guys!
Today, for our pride month special post, we have the author of one of the most awaited and exciting upcoming releases of 2016, a LGBT YA about royalty, magic, horses and forbidden romance - Of Fire and Stars! Let's welcome Audrey Coulthurst, and today she's being interviewed by yours truly!
I started saving money in a change jar to buy a horse when I was six years old and finally bought my first horse—a psychotic barely-trained Morgan gelding—when I turned 11.

I judged classic Jaguar car shows as a teenager, and at the time I was the youngest judge ever recognized by Jaguar Clubs of North America (JCNA).

After my first year of college, I spent a summer working as a ranch hand in Montana.

My Siamese cat and I have entire conversations that consist of us yowling at each other until my wife tells us both to shut up.

Although I'm a writer now, my undergraduate degree is in music history, and I am a total fanatic about women composers of classical music.
Mish : What does diversity in books mean to you? Why do you think there should be more diversity in books?
Audrey : What I'd love to see is more thought put into how closely the books we read reflect the world we live in and whether every person has the chance to be the hero of his, her, or their story. I spent a long time not seeing myself (a non-straight woman) as the protagonist of the stories I loved most (fantasy books). I hope that all readers will someday be able to find stories that show them they can be the heroes of their own stories no matter their race, gender identity, sexuality, or (dis)ability.
Mish : Can you share with us your top 5 LGBTQIA+ reads?
Audrey : Oh, this is a great question! Readers interested in stories featuring LGBTQIA+ identities should definitely check out the website lgbtqreads.com. It's a great resource to find books with protagonists that represent all the colors of the LGBTQIA+ rainbow across lots of genres. To narrow it down for today, I'll recommend a few wonderful 2016 releases featuring female protagonists who like girls:
Mish : What inspired you to write Of Fire and Stars?
Audrey : My inspiration for Of Fire and Stars came from writing the book I had always wanted to read. I was a big fantasy reader as a teen, but it wasn't until adulthood that I came across a fantasy book with a female protagonist who fell in love with another girl. I had always wanted to write an unconventional princess story, probably because Dealing With Dragons by Patricia C. Wrede was the book that got me into fantasy as a kid. So once I stopped to think about what a dearth of fantasy books there were featuring LGBTQIA+ protagonists and how much it would have meant to me to have one as a teen, I knew I needed to write one.
Mish : Does the fact that you're part of the LGBT community influence your writing or characters?
Audrey : It does, mostly in the sense that I think a lot about the casts of characters in my books and who I am choosing to represent. I would be doing a disservice to the LGBTQIA+ community to try to be a voice for all of those identities, but being aware and inclusive might help make space for future stories from other writers who might not see themselves represented enough in fiction.
Mish : What's your favourite part of being a writer?
Audrey : Without question, the best part of being a writer is other people in the book community. Walking into a room of book lovers always feels like walking into a room full of friends. I love hearing what books other people are excited about—there is so much passion among readers.
Mish : What has been the easiest and the most challenging part of writing Of Fire and Stars?
Audrey : Writing the scenes involving horses was the easiest part of creating Of Fire and Stars. I enjoyed developing a kingdom and society that largely revolved around horses and horsemanship, and it was fun to put my years of riding to good use on the page. The most challenging part of writing the book was figuring out all of the history behind the politics, religion, and magic in the Northern Kingdoms. Fortunately, I have some very smart friends and critique partners who were a huge help!
Mish : LGBTQIA in YA fantasy is really rare. What would you like to say about this?
Audrey : The only thing I have to say about this is that I can't wait to see more! Even though it's unfortunate that right now there are not a lot of LGBTQIA+ stories in YA fantasy, that means the possibilities are infinite. I can't wait to see what writers develop to fill these gaps in the market, and I could not be more excited to immerse myself in the worlds they create from the unique perspectives they have to offer.
Mish : What advice would you give to teens who are coming to terms with their sexuality or struggling with the discovery?
Audrey : For those who are still struggling, mostly I want to tell them to hang in there. What they're going through is very hard and might have some serious low points. But it will have some high points too. Do what you need to do to remain safe. It might take time, distance, or work to find your tribe—the group of people who love you for exactly who you are and help you become a better person—but it is absolutely worth it, I promise.
Mish : What are you working on right now? Any future projects you're allowed to share?
Right now I'm working on the companion to Of Fire and Stars. All I can say about it right now is that it has a different cast of characters and involves a lot more magic and murder. *smiles innocently*
Thanks for chatting with us, Audrey!
Have you all checked out Audrey's debut Of Fire And Stars??? I personally am beyond excited for the book, and can't wait to start reading it!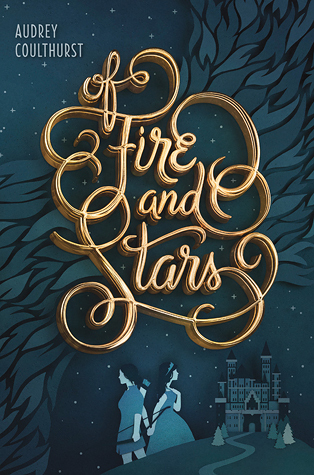 Title : Of Fire and Stars
Author : Audrey Coulthurst
Release Date : November 22nd 2016
Publisher : Balzer + Bray
Betrothed since childhood to the prince of Mynaria, Princess Dennaleia has always known what her future holds. Her marriage will seal the alliance between Mynaria and her homeland, protecting her people from other hostile lands. But Denna has a secret. She possesses an Affinity for fire—a dangerous gift for the future queen of a kingdom where magic is forbidden.
Now, Denna must learn the ways of her new home while trying to hide her growing magic. To make matters worse, she must learn to ride Mynaria's formidable warhorses before her coronation—and her teacher is the person who intimidates her most, the prickly and unconventional Princess Amaranthine (called Mare), sister of her betrothed.
When a shocking assassination leaves the kingdom reeling, Mare and Denna reluctantly join forces to search for the culprit. As the two work together, each discovers there's more to the other than she thought. Mare is surprised by Denna's intelligence and bravery, while Denna is drawn to Mare's independent streak. Soon their friendship is threatening to blossom into something more.
But with dangerous conflict brewing that makes the alliance more important than ever, acting on their feelings could be deadly. Forced to choose between their duty and their hearts, Mare and Denna must find a way to save their kingdoms—and each other.
Doesn't the book sound amazing??? *flails*
I got a chance to meet Audrey at BEA this year, and she was so sweet! It was so great to be able to chat with her, and I am so excited to be featuring her on the blog!
Here's Audrey and me at BEA! :D
About the Author
Audrey Coulthurst writes YA books that tend to involve magic, horses, and kissing the wrong people. Her debut novel,
OF FIRE AND STARS
, will be published by Balzer + Bray/HarperCollins on November 22, 2016.
When she's not dreaming up new stories, she can usually be found painting, singing, or on the back of a horse. Audrey has a Master's in Writing from Portland State University, is a member of SCBWI, and studied with
Malinda Lo
as a 2013 Lambda Literary Foundation Fellow. She lives in Santa Monica, California.