Hi guys!
Today, I have another Pride Month special post for you! :) Today, I am featuring the author of the fan favourite Simon vs. the Homo Sapiens Agenda, Becky Albertalli, whose an amazing author of LGBT lit and a wonderful person online! I am so excited to be able to interview her, and without further ado, here are her answers to my questions! :D
-I can touch my tongue to my nose.
-My favorite color is blue.
-I can't snap my fingers.
-I'm an INFP and a Scorpio.
Mish : You used to be a licensed clinical psychologist. Has that aspect of your career had any influence in your writing?
Becky : I'm sure it has, though I have a hard time pinpointing how! I'm very careful never to use any of my clients' stories in my fiction, so my books are more influenced by my own experiences than my professional background. But in a general sense, I imagine my writing is part of a long process of integrating the information I learned throughout my training and career.
Mish : Authors who write marginalized characters while not belonging to the community themselves often fail to achieve an authentic representation. But your portrayal of a gay character was applauded despite you being straight. How did you manage to make it work?
Becky : Thank you so much – I'm so glad you feel it worked! I know I approached the issue from multiple angles. There was a lot of research involved on the front end, particularly over the course of my psychology training. I also make a point to carefully follow conversations on social media among members of marginalized communities. There are so many people sharing such heartfelt wisdom about their experiences, and it's worthwhile to just listen. I also make sure I listen to feedback from members of the communities I'm writing about, and take that very seriously.
Mish : Tell us something about "The Upside of Unrequited"!!!! Well, something you're allowed to share!
Becky : UPSIDE is actually a very loose retelling of Emma/Clueless, from the perspective of Harriet/Tai!
Mish : Simon is a coming out story. I am sure and hope that it helped kids who are coming to terms with their sexuality. What would your advice be for such kids who are struggling with the discovery and experience?
Becky : I'm hesitant to give concrete advice, because so much depends on context and environment. I think the only general advice I'd give is that you get to direct your own process. Never let anyone make you feel like you should come out if you're not ready, or vice versa. Also, reach out to others in the community in online spaces like GLSEN and The Trevor Project!
Mish : I've always loved how supportive you are towards bloggers and how you never hesitate to stand up for us! ( THANK YOU!!! WE LOVE YOU FOR THAT! ) What would you like to say about your relationship with book bloggers?
Becky : I love book bloggers to pieces! Bloggers were some of the first people to really take a chance on SIMON, and I think that early buzz paved the way for all the good things that have since happened for my career. I'm hugely grateful.
Mish : And I am curious! Are you as obsessed with Oreos as Simon? :)
Thanks a lot for chatting with us, Becky! It was such a pleasure to have you on the blog!
Have you all read Simon? It's a beautiful book and a must read! If you haven't read the book yet, go grab a copy soon before Becky's next book, The Upside of Unrequited comes out! ;D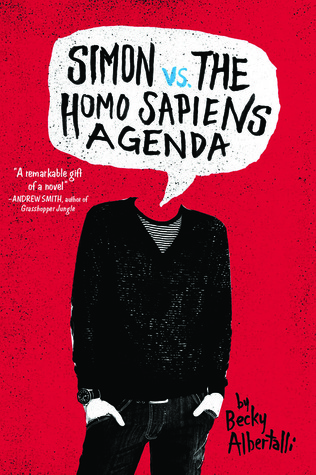 Title : Simon vs. the Homo Sapiens Agenda
Author : Becky Albertalli
Release Date : April 7th 2015
Publisher : Balzer + Bray
Sixteen-year-old and not-so-openly gay Simon Spier prefers to save his drama for the school musical. But when an email falls into the wrong hands, his secret is at risk of being thrust into the spotlight. Now Simon is actually being blackmailed: if he doesn't play wingman for class clown Martin, his sexual identity will become everyone's business. Worse, the privacy of Blue, the pen name of the boy he's been emailing, will be compromised.
With some messy dynamics emerging in his once tight-knit group of friends, and his email correspondence with Blue growing more flirtatious every day, Simon's junior year has suddenly gotten all kinds of complicated. Now, change-averse Simon has to find a way to step out of his comfort zone before he's pushed out—without alienating his friends, compromising himself, or fumbling a shot at happiness with the most confusing, adorable guy he's never met.