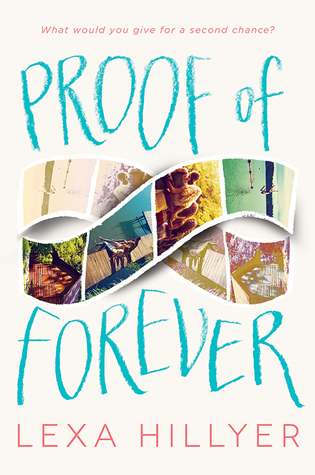 Title: Proof of Forever
Author: Lexa Hillyer
Release Date: July 5th, 2016
Publisher: HarperCollins
Synopsis:
Before: It was the perfect summer of first kisses, skinny-dipping, and bonfires by the lake. Joy, Tali, Luce, and Zoe knew their final summer at Camp Okahatchee would come to an end, but they swore they'd stay friends.
After: Now, two years later, their bond has faded along with those memories.
Then: That is, until the fated flash of a photo booth camera transports the four of them back in time, to the summer they were fifteen -- the summer everything changed.
Now: The girls must recreate the past in order to return to the present. As they live through their second-chance summer, the mystery behind their lost friendship unravels, and a dark secret threatens to tear the girls apart all over again.
Always: Summer ends. But this one will change them forever.
I highly anticipated this book, especially because it was a contemporary novel on teenage friendship. I've always had a thing for books that revolve around relationships -- namely, familial relationships and friendships -- so when I first heard of Proof of Forever, I knew then and there that I had to read this book at once.
Needless to say, with my expectation all built up, I was slightly disappointed with certain aspects of the book that simply didn't work well with me.
Proof of Forever is a story of 4 teenage girls -- all close friends with one another. Young, carefree, and often reckless. Their friendship is torn apart after 2 years since camp, but when they decide to reunite to see one another one last time, something terrible happens after a flash of a photo booth camera -- they're brought to the past. To that last summer they were all in camp, that last time they were all good friends.
One of the things that I was utterly disappointed of in this book were the unnecessary parts of the book that simply didn't make much sense to me.
The characters of the book frequently had sex with the people at camp, eventually making clumsy mistakes that were clearly irreversible. Don't get me wrong, I know that books nowadays contain sex, and I am not at all bothered by it. (Unless, of course, if it's erotica.) However, there was a huge superfluous amount of teenage sex, and the entire time I kept thinking, "Was this all necessary for the book to move forward?"
Definitely not.
Other than that, I was disappointed by the romance of the book. The girls in Proof of Forever would often jump from relationship to relationship, so I would often get confused which was dating which. Personally, I felt like the romance overshadowed the whole point of the book. The book was supposed to be about reviving an old friendship, but I couldn't understand why romance, sex, or fixing the past had anything to do with it. So many parts of the book were completely unnecessary that, in the end, I found myself slightly upset.
Of course, this book has its positives as well. I enjoyed the book, the concept, the setting at camp. I liked how the book narrated each of the 4 girls in this book, and I feel that it did an impressive job at keeping up with each of them.
While this book is obviously not a favorite, it still did come to my liking. I am still disappointed with this book, though, but I would still recommend it ,nevertheless, to all readers of contemporary fiction and books about friendship!