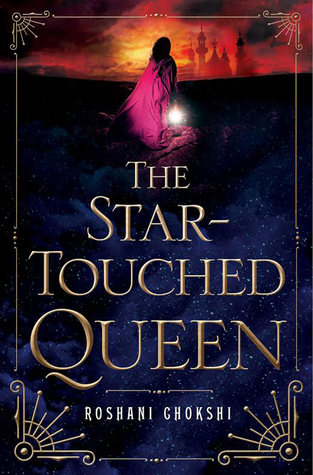 Title: The Star Touched Queen
Author: Roshani Chokshi
Release Date: April 26th 2016
Publisher: St. Martin's Griffin
Fate and fortune. Power and passion. What does it take to be the queen of a kingdom when you're only seventeen?
Maya is cursed. With a horoscope that promises a marriage of death and destruction, she has earned only the scorn and fear of her father's kingdom. Content to follow more scholarly pursuits, her whole world is torn apart when her father, the Raja, arranges a wedding of political convenience to quell outside rebellions. Soon Maya becomes the queen of Akaran and wife of Amar. Neither roles are what she expected: As Akaran's queen, she finds her voice and power. As Amar's wife, she finds something else entirely: Compassion. Protection. Desire…
But Akaran has its own secrets—thousands of locked doors, gardens of glass, and a tree that bears memories instead of fruit. Soon, Maya suspects her life is in danger. Yet who, besides her husband, can she trust? With the fate of the human and Otherworldly realms hanging in the balance, Maya must unravel an ancient mystery that spans reincarnated lives to save those she loves the most…including herself.
This review is based on an advanced review copy. Quotations mentioned might be subject to change in the final copy.
I have made it no secret that I love diversity. Especially diversity in fantasy. And ethnic diversity holds a special place in my heart, considering the fact that I am a POC myself, and has always longed to see my culture reflected in books. So when I first heard about The Star Touched Queen, back when it was just a title and synopsis listed down with a tentative release date in GR, I knew that I want to read this book. As a Sri Lankan, the Indian culture is the closest I can ever relate to if portrayed in media and books, and the idea of a fantasy book inspired by Indian mythology, written by an author who had roots in India herself was just amazing! Saying that I was excited for the book is a huge understatement! Long story short, The Star Touched Queen was the book of my dreams, and let's see whether it satisfied all of those obviously high expectations.
Maya, the princess of Bharata, has a rather unfortunate horoscope. Avoided by the court and shunned by the women in the castle, Maya braces herself for an unlikely fate, when she finds herself whisked away to Akaran as the queen and wife of the mysterious king, Amar. Life with Amar introduces Maya to a fantasical and magical world and life which Maya never expected to stumble upon, and which finds out she was destined for all along.
If I bring it all down to one word, The Star Touched Queen was absolutely gorgeous! From its cover to its writing, everything is so whimsical, beautiful and absolutely amazing! Roshani will take you on a fantasical ride you've never been on before, and spins an enthralling tale, complete with her vivid descriptions, breathtaking imagery, stellar world building and remarkable characters.
A divided sky illuminated an unearthly city. To the left, the moon bathed small shops and twisting plants in a pearly light. To the right, the sun beamed and soft sunshine fell over strange trees shaped like human limbs and animals. The sky, ever divided by day and night, blended into a spectrum of rainbow.
Maya was a lost, unfortunate girl when we first meet her in the book, and her journey of self discovery is rather heartwarming to read. Having grown up in a Tamil neighbourhood, I know how much horoscopes mean to people, especially when it comes to marriage, and I could totally relate to Maya's troubles with her own doomed horoscope. Her transformation from shunned princess to a treasured queen was breathtaking to read!
Amar was just the perfect fantasy hero. Mysterious, handsome and a knack for saying the most perfect and swoon worthy things ever! For some reason he reminded me of Khalid from The Wrath and the Dawn - maybe because both boys knew just the right things to say to a girl - and he was an intriguing and enigmatic mystery which unraveled as the story goes.
"I love you," he murmured into my hair. "You are my night and stars, the fate I would fix myself to in any life."
But hands down, the aspect which I loved the most would be the authenticity of the story. I was feeling quite emotional when I read the book, because for once in my life, I knew every single italicized word in a fantasy book. For the first time, I read a book where the backstories, the folk tales mentioned and the entire aura of the story was totally relatable. I think it hit the peak point when I read the part where the tale of Narasimha was narrated - it is one story which my grandmother used to tell when I was a small girl, and reading the book totally took me back to my childhood, growing up with Indian mythology and folk tales. The book featured clothing and food I see in my life every day. It was one beautiful feeling, and just reminded me all over again, why diversity is so important in books.
"Lanterns illuminated the room to a pale gold. In the middle of the room were two saffron-colored cushions, along with a score of small plates piled high with steaming rice cakes, bowls of hot dal and buttery slices of naan"
It was also quite authentic! Being a half Indian herself, Roshani was able to capture the essence of these myths and traditions, and for a minute I could totally envision the book as a Bollywood movie with the culture portrayed perfectly! Roshani also skillfully blends a hint of Greek mythology as well, without any clashes, and the end result is nothing short of marvelous.
I think probably the only thing that might be a hindrance to love this book entirely would be that the middle part can be a bit slow. As it often happens to books with beautiful writing - one of the most accurate examples being A Thousand Nights - the pace is slow, and for those who like their books happening, this aspect might be an obstacle.
Overall, The Star Touched Queen is one beautifully written, authentically portrayed, and skilfully developed fantasy which will appeal to all fantasy fans - especially if you loved Cruel Beauty and The Wrath and the Dawn - who love some lyrical writing and vivid imagery. I can't wait to read the next installment in this universe, as well as all the other books, Roshani might write in the future!