Hey bookworms!
I think I've tired you guys enough with my praise of History is All You Left Me, but still, this book is too amazing to let go of. History released two days ago, and I am so excited about it and can't wait until all of you read it, fall in love and get your hearts broken!
Today, in celebration of the release of the book, we have an interview with Adam Silvera, courtesy of #DiverseReads2017, and here's what he had to say about the book!
Describe your book in 5 ( knowing you, 4 ) words:
Heartbreaking. Hopeful. Super gay. OCD. Universes. (Take 6 words.)
What inspired you to write History is All You Left Me?
A breakup with one of my best friends. We started off long distance, then I was living with him, then it became long distance again, then we broke up to stay friends, but we still loved each other, but we had to move on, so he dated someone else and it broke my heart and I wrote this book! Haha. There's a lot more there, like when he and his boyfriend almost drowned. I still loved him and was hit with this fear of what life would've looked like had he actually died, especially since I was still hoping we would get back together and be in love again.
History releases in a few days! How do you feel about the book finally coming out and the world meeting the boys?
I'm SO excited. And nervous. It's been over a year since I've shared new characters with readers and I hope everyone loves Griffin and his squad. They mean a lot to me.
History is #ownvoices in every way it counts, and I think that makes the book extremely authentic. How does it feel to write about a character or concept that is so similar to yourself?
Writing is always hard, but it's easy when it comes to writing characters similar to myself since I know myself pretty well. (I think!) It was really great to write about OCD since Griffin's compulsions completely mirror my own, and it's really heartening to share this piece of myself with readers. I feel like everyone is getting to know me a little better by reading Griffin.
What has been your favourite aspect(s) of the entire journey of History?
This was the hardest book I've ever written, I think. So I love whenever readers tell me they love it because it feels like I've done my job. But I think the best thing has been me being very proud of it. I was hating it for a while because it wasn't coming together and then it DID and I love it. I always write for myself first with the hope it connects with others, but if it doesn't, I'm happy with the book and that's still a huge success.
Can you share with us what you're working on next?
I'm at the very last stage of my next book, They Both Die At The End which releases from HarperTeen on September 5th, 2017. It's set in a world where Death-Cast calls you on the day you're going to die, and revolves around two boys who meet through The Last Friend app and attempt to live a lifetime in a single day. I'm also working on the first drafts of my first fantasy novel and another contemporary!
Thanks so much for hosting me, Mishma! Your support for History has meant so much to me :)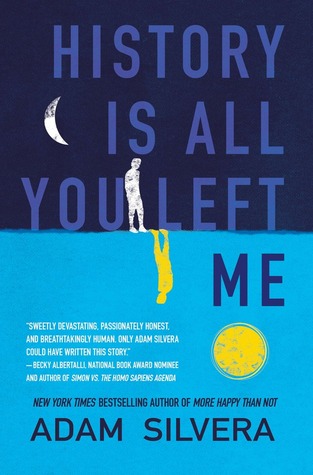 Title: History Is All You Left Me
Author: Adam Silvera
Release Date: January 17th 2017
Publisher: Soho Teen
When Griffin's first love and ex-boyfriend, Theo, dies in a drowning accident, his universe implodes. Even though Theo had moved to California for college and started seeing Jackson, Griffin never doubted Theo would come back to him when the time was right. But now, the future he's been imagining for himself has gone far off course.
To make things worse, the only person who truly understands his heartache is Jackson. But no matter how much they open up to each other, Griffin's downward spiral continues. He's losing himself in his obsessive compulsions and destructive choices, and the secrets he's been keeping are tearing him apart.
If Griffin is ever to rebuild his future, he must first confront his history, every last heartbreaking piece in the puzzle of his life.
Goodreads
|
Amazon
|
Barnes & Noble
|
IndieBound
About Adam
Adam Silvera was born and raised in the Bronx. He has worked in the publishing industry as a children's bookseller, marketing assistant at a literary development company, and book reviewer of children's and young adult novels. His debut novel, More Happy Than Not, received multiple starred reviews and is a New York Times bestseller. He is tall for no reason and writes in New York City.
Website
|
Twitter
|
Facebook
|
Instagram