It's time for another #DiverseReads2017 interview!
Today, I am super excited to invite Robin Talley, author of amazing diverse titles such as Lies We Tell Ourselves, What We Left Behind, As I Descended and the upcoming Our Own Private Universe!
The latter title just released yesterday, and today Robin will be answering some questions on the book, and diversity overall!
1. Describe your book in 5 words
Happy girl-on-girl romance. :)
2. What inspired you to write Our Own Private Universe?
Our Own Private Universe was directly inspired by one of my own favorite books ― Judy Blume's classic YA Forever. That book, first published in the 1970s, was one of the first to showcase a teen couple who had sex, and who weren't punished for it with a pregnancy or some other immediate disaster. Forever was, and still is, beloved among a lot of teen and preteen girls, partly because it represents a safe space to read about sex. Growing up, I always wished there were a book like Forever in that regard, but with a queer main character. Then, a few years ago, it occurred to me that I could always try writing a book like that myself. So I sat down and started writing the book that became Our Own Private Universe.
3.
What would you like to say about the need for more queer representation in YA, especially f/f relationships?
First, I'd like to say we've come a long way. There are now actually a lot of YA books being published with queer characters, and we're seeing more and more representation of f/f relationships in them, too (for the longest time, the category was dominated by m/m stories). That being said, we've still got a long way to go to ensure we're serving all teen readers, queer, questioning, trans, and cishet alike ― all of whom benefit by seeing a full range of representations of LGBTQIA+ lives in YA books.

We need a lot more intersectionality ― more characters who are LGBTQIA+ and who are also people of color, disabled, from minority religious groups and low-income families, etc. And we just need more books, period. There are countless romances and adventure stories and fantasies and thrillers and sci-fis and every other genre imaginable sitting on bookstore shelves that focus on straight, cisgender characters ― there's a cishet book for absolutely every taste. We need to keep putting out more books until the same is true for books about characters from marginalized communities across the board, queer and trans teens included.
4.
What has been your favourite aspect(s) of the entire journey of this book?
Hmm. That's hard to pinpoint, but it might be the first time I saw the book's gorgeous cover. I'd always dreamed of having a cover like this one ― one where the queerness of the characters is incredibly clear from the visuals ― and I was overjoyed that my publisher agreed with me. Plus, it's just so pretty.
(I should add, though, that I don't think every book about queer characters needs to have a cover like this one. There are still many closeted teen readers for whom it isn't safe to pick up a book that's obviously about queer folks. Until we've reached a point where that's no longer the case, I think we need a mix of both covers that make it clear that they're about LGBTQIA+ characters and other covers that are subtler.)
5. O
ur Own Private Universe is a sex positive book. What's your thoughts on this? Do you think we need more sex positive books in YA?
I think there's always a need for more sex positivity, particularly when we're talking about characters who are teenage girls. So much of the media narrative about girls and sex focuses on making girls feel like they should be ashamed for wanting, or having, sex. We need to counteract that. We need to show girls that they're entitled to feel however they want to feel ― whether that means they want to have sex, or they don't want to have sex, or they aren't sure what they want, or anything else in between ― and that they don't need to feel guilty or apologize for it. I think we're seeing more and more YA books that reflect that perspective, which is awesome.
6. T
his might be a cruel question, but what's your fav book of those you've written so far and why?
Haha! It's not cruel. For me, the book I've most recently finished is usually the closest to my heart, so right now, my answer is Our Own Private Universe. :)
What advice would you give for aspiring authors, especially but not limited to queer teens?
There are two things you absolutely need to do in order to be a writer: (1) You have to read, a lot. And (2) You have to write, a lot. Everything else (including worrying about publishing) is so far down on the list it's not even worth thinking about when you're just getting started. Put your energy into reading as much as you can, as widely as you can, and into writing ― even if your initial efforts aren't any good (mine weren't). Writing is just like playing a sport or an instrument; you have to practice constantly before you can produce anything worth showing off.
7. Can you share with us what you're working on next?
I'm working on two projects right now, but only one has been announced, so I'll talk about that one! It's a novel called Pulp, and it'll come out in 2018. Half of the book is set in 1955, and it focuses on a closeted teenage girl named Janet who's secretly writing a lesbian pulp fiction novel under a pseudonym. Lesbian pulp fiction novels were a huge publishing phenomenon in the 1950s and 60s ― they were cheap paperbacks sold in bus stations and drugstores with tawdry covers and marketed to men, but a lot of them were really well-written, and they were some of the only media representations of queer women that existed in that conservative era. The other half of Pulp is set in the present day, and it focuses on an out-and-proud lesbian teenager who finds a tattered copy of Janet's book and becomes obsessed with figuring out the identity of the woman behind the pseudonym.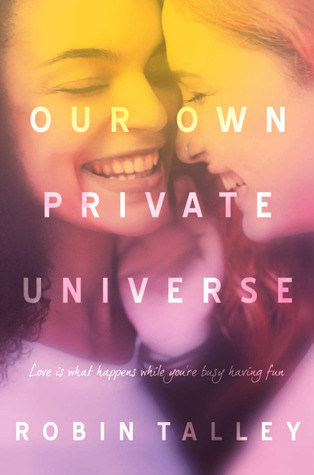 Title : Our Own Private Universe
Author : Robin Talley
Publisher : Harlequin Teen
Release Date : January 31st
Synopsis:
Fifteen-year-old Aki Simon has a theory. And it's mostly about sex.
No, it isn't that kind of theory. Aki already knows she's bisexual—even if, until now, it's mostly been in the hypothetical sense. Aki has dated only guys so far, and her best friend, Lori, is the only person who knows she likes girls, too.
Actually, Aki's theory is that she's got only one shot at living an interesting life—and that means she's got to stop sitting around and thinking so much. It's time for her to actually do something. Or at least try.
So when Aki and Lori set off on a church youth-group trip to a small Mexican town for the summer and Aki meets Christa—slightly older, far more experienced—it seems her theory is prime for the testing.
But it's not going to be easy. For one thing, how exactly do two girls have sex, anyway? And more important, how can you tell if you're in love? It's going to be a summer of testing theories—and the result may just be love.
About Robin
Robin Talley is the New York Times-bestselling author of four novels for teen readers: Our Own Private Universe, As I Descended, What We Left Behind, and Lies We Tell Ourselves.
Robin lives in Washington, D.C., with her wife, their daughter, and an antisocial cat. She enjoys reading about queer characters, analyzing Disney movies, and chocolate. You can find her at
www.robintalley.com
This post is part of Diverse Reads 2017, a reading challenge hosted by myself and
Shelly
. If you want to join the challenge, or if you're an author who wants to be featured, sign up
here