Hey bookworms! Today we have yet another #DiverseReads2017 interview!
I am super excited to host Heidi Heilig on the blog today! Heidi's The Ship Beyond Time - sequel to the amazing The Girl From Everywhere - is releasing today, and she's here with us, sharing some exciting information about the book!
Describe your book in 5 words!
Timetravel. tall ships, true love
What inspired you to write Nix's story and world?
In my last year of highschool, I became obsessed with time travel. Why? Well. When I was a freshmen, i fell in love with a boy. This boy became my best friend over the next three years, but I was never brave enough to tell him how I really felt. Then, just before senior year, I moved from Hawaii to New York City--three thousand miles away. We lost touch--there was no skype then, and long distance calls were impossibly expensive--and I always regretted never telling him how I felt when I had the chance. I often daydreamed about what I would do differently, if I could go back. How my future would change if only I could change my past.
In THE SHIP BEYOND TIME, Nix learns she's fated to lose the one she loves, and must try to change her fate to avoid a devastating loss.
It's been a year since The Girl From Everywhere came out! How has your debut author experience been?
Lots of ups and downs (that's a bipolar joke). At first, I felt a lot of tension between my private self and my public persona, so--slowly at first, then all at once--I gave myself permission to be myself, no matter where I am. Since "myself" is literally a bit crazy sometimes, it's occasionally caused a bit of difficulty, but nothing so hard as pretending to be something I'm not.
As for the ups? Honestly I never expected to be published (when I wrote THE GIRL FROM EVERYWHERE, I was just writing it for me--for fun) so every single new experience in publishing is the new best highlight of publishing. A debut? AMAZING. Finishing a second book? ASTOUNDING! And now having a second book out in the world? FABULOUS. I suppose when you have modest expectations, almost everything is a wonderful surprise.
So which countries are we travelling to in this book?
Well, the book starts right where we left off: On a warm December day in 1884, the Temptation was leaving Hawaii, as well as the 19th century, and her destination was entirely in my hands.
The next map Nix has settled on is one of Tahiti, though (without giving away too much) that doesn't go quite as planned. The Temptation also visits New York, and then the mythical utopia of Ker-Ys, off the coast of Bretagne, as well as one other place I can't disclose without spoiling the book. But I hope you enjoy discovering it for yourself!
What would you like to say about the need for diversity in SFF?
I have so much to say about it basically at all times so I'll keep it short and sweet here: we need diverse SFF because 1) everyone needs to see marginalized people in both magical pasts and in hightech futures. They need to know there are places for marginalized folks across imagined worlds and strange universes--that all creative visions and flights of fancy include them, because the alternative is that entire groups of people do not exist in our wildest dreams and that is unacceptable.
We've come a lot far with the diversity movement. What more do you think authors and publishers should work on and pay attention to?
I think people at every level in the industry have to keep pushing forward! Marginalized bloggers should be sent more ARCs and their reviews seen/read more widely. Marginalized authors should be given publicity based on their work and not their social status. Publishers should hire more marginalized people AND make their workspaces inclusive and safe so these new points of view can be heard. And i think we all need to learn to apologize with grace and humility--because everyone is still learning, and so no one will get things right 100% of the time. Learning to apologize when we get things wrong leads to the ability to incorporate new knowledge in onesself, as well as healing in the community, and we need both.
Random question but, do you really not own a cat?
I really don't, I'm allergic. The cat in my favorite author photo was borrowed from the photographer, because I adore photos featuring authors with their cats.
Is there more books to come from this series? :D
This is the last book planned, though of course I have endless ideas for where to time travel on a pirate ship.
Can you share with us what you're working on next?
My next series is as yet unannounced so keep this between us, but it's a bit Moulin Rouge meets Miss Saigon (minus the asian fetishization and with much more magic.)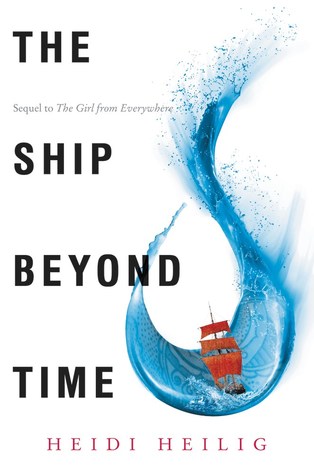 Title : The Ship Beyond Time
Author : Heidi Heilig
Release Date : February 28th 2017
Publisher : Greenwillow Books
Synopsis :
The breathtaking sequel to the acclaimed The Girl from Everywhere. Nix has escaped her past, but when the person she loves most is at risk, even the daughter of a time traveler may not be able to outrun her fate—no matter where she goes. Fans of Rae Carson, Alexandra Bracken, and Outlander will fall hard for Heidi Heilig's sweeping fantasy.
Nix has spent her whole life journeying to places both real and imagined aboard her time-traveling father's ship. And now it's finally time for her to take the helm. Her father has given up his obsession to save her mother—and possibly erase Nix's existence—and Nix's future lies bright before her. Until she learns that she is destined to lose the one she loves. But her relationship with Kash—best friend, thief, charmer extraordinaire—is only just beginning. How can she bear to lose him? How can she bear to become as adrift and alone as her father?
Desperate to change her fate, Nix takes her crew to a mythical utopia to meet another Navigator who promises to teach her how to manipulate time. But everything in this utopia is constantly changing, and nothing is what it seems—not even her relationship with Kash. Nix must grapple with whether anyone can escape her destiny, her history, her choices. Heidi Heilig weaves fantasy, history, and romance together to tackle questions of free will, fate, and what it means to love another person. But at the center of this adventure are the extraordinary, multifaceted, and multicultural characters that leap off the page, and an intricate, recognizable world that has no bounds.
Goodreads
|
Amazon
|
Barnes and Noble
About the Author
Heidi grew up in Hawaii where she rode horses and raised peacocks, and then she moved to New York City and grew up even more, as one tends to do. Her favorite thing, outside of writing, is travel, and she has haggled for rugs in Morocco, hiked the trails of the Ko'olau Valley, and huddled in a tent in Africa while lions roared in the dark.
She holds an MFA from New York University in Musical Theatre Writing, of all things, and she's written books and lyrics for shows including The Time Travelers Convention, Under Construction, and The Hole. She lives in Brooklyn with her husband, her son, and their pet snake. They do not own a cat.