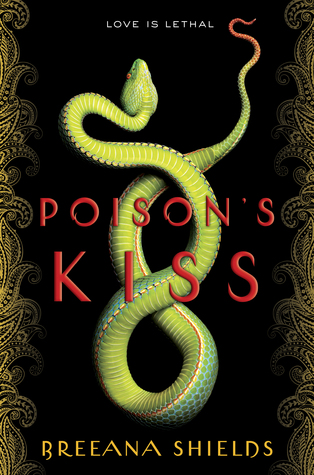 Title : Poison's Kiss
Author : Breeana Shields
Release Date : January 10th 2017
Publisher : Random House
Synopsis :
A teenage assassin kills with a single kiss until she is ordered to kill the one boy she loves. This commercial YA fantasy is romantic and addictive like-- a poison kiss-- and will thrill fans of Sarah J. Maas and Victoria Aveyard.
Marinda has kissed dozens of boys. They all die afterward. It's a miserable life, but being a visha kanya, a poison maiden, is what she was created to do. Marinda serves the Raja by dispatching his enemies with only her lips as a weapon.
Until now, the men she was ordered to kiss have been strangers, enemies of the kingdom. Then she receives orders to kiss Deven, a boy she knows too well to be convinced he needs to die. She begins to question who she's really working for. And that is a thread that, once pulled, will unravel more than she can afford to lose.
This rich, surprising, and accessible debut is based in Indian folklore and delivers a story that will keep readers on the edge of their seats.
You don't have to persuade me to take up a YA fantasy inspired by Indian mythology. When I first heard of Poison's Kiss and the mention of Visha Kanyas, the desi bookworm in me was screaming in anticipation. I went into this book with a lot of expectations, especially since snakelore stories have been one of my favourite genres to read when I was small
Marinda is a visha kanya, an assassin working for the Raja, who is tasked to give a fatal kiss to traitors, which will eventually kill them. She hates her life, but continues to live on with no choice, because her little brother's life depends on her obedience. Her carefully controlled life shatters when she meets Deven, and she enters a journey of revelations and betrayals which shakes the root belief of her entire existence.
Poison's Kiss was exquisite. The book had its ups and downs, especially certain glitches in the world building and romance, which I'll address later, but overall, I adored Poison's Kiss. I loved the take on mythology, the clever way of incorporating certain folklore and myths together, and the overall writing and pace
I have to mention the execution of the mythology here. As a non Indian and non Hindu, Breeana Shields' research is actually quite remarkable. There are a few tiny mistakes here and there, especially with regards to the language at times, but it's harmless, at least from what I could see. There's also a point where the lines between Indian culture and Hindu culture gets blurred. It's a common mistake I see a lot of people do, but let me explain it this way. India is a country, Hinduism is a religion. The majority of Indians do follow Hinduism, but that doesn't make them the same. And even the way Hindus of different ethnicities practice the religion is extremely different. Punjabis in Northern India for example, practice in a way that's so different from the way we Tamils do. The vast majority of this book's content is inspired by Hindu mythology - save for few aspects of the world, that pays homage to India - so I wish, the book is promoted hereafter as inspired by Hinduism and its myths, and not Indian mythology.
I loved the take on visha kanyas and snakelore in this book! Visha Kanyas are poison maidens, mentioned in the
Kalki Purana
as women who hold poison in them, and can kill men with a single kiss or touch, and seduce enemies in order to kill them. They are believed to go through a process called mithridatism - where they are fed poison in carefully calculated amount, to the point where they become immune. Snakelore is a vast subject, a deep sea in Hinduism - I can go on talking about it, because I love it that much - but basically, snakes are considered divine, and there's mythology around Nagas, snakes who can shift into human, and their king, to whom sacrifices are made frequently. Breeana has combined these two mythologies cleverly, and made the visha kanya's poison associated with a snake's one, and intricately woven a fantasy that covers aspects of both folklores in a way they compliment each other.
As a small child, I've always LOVED stories on snakelore. The Naga world, the way their poison and morality worked, and ancient feud between the Garuda ( A bird that resembles the eagle) and the Naga - and to see these stories appear in a YA book was truly a dream come true! I was taken back to the age I was consumed with curiosity and was buried in my storybooks of fantasy full of Indian and Hindu stories.
Coming to the story, I really liked the pace of the book. There were carefully timed revelations - and even though some were a bit predictable, I really liked the twists. I was kept on edge with some of the incidents, and was equally worried, excited and anxious, waiting to see what happens next.
Marinda is one adorably innocent character whom I wanted to protect at all times. It was quite a paradox considering what she was actually capable of, but her innocence was refreshing, though at times I felt like she was a bit too naive, especially to the extent of being too ignorant of things - certain things she could've easily caught on, things that were just before her eyes and just needed to be questioned a bit.
Deven - well, I wasn't so wild about him, but I liked him as a love interest. Their romance was good, might be a bit insta lovey for some, though. I adored Marinda's little brother Mani. And the characters of the antagonistic side - they were glorious. There were a lot of antiheroic characters in the book, whether it be the evil Gopal, his messenger Geetha or even Marinda's only friend Iyla. Speaking of , I flat out loved Iyla as a character, I need to know more of this girl, know the story through her eyes.
Overall, I adored Poison's Kiss, and would certainly recommend it! Certain minor glitches would make me maybe rate it a 4 out of 5, but otherwise, Poison's Kiss was so good! Fans of fantasy, assassins, Hindu and Indian mythology and fast paced novels should definitely give this book a shot!