Hi bookworms!
Today I bring to you another Diverse Reads 2017 author! Say hi to Angie Thomas, author of The Hate U Give, and the current superstar of the book community!
Describe your book in 5 words
-Activist-in-the-making finds her voice. (Kinda more than five, but activist-in-the-making is one word according to Microsoft Word :)
What inspired you to write The Hate U Give?
I was inspired to write The Hate U Give back in 2010/2011 after the shooting death of Oscar Grant, a young black man in Oakland, California who was killed by police. At the time, I was like Starr, living in two different worlds – my upper class, mostly white college and my low-class, mostly black neighborhood. This caused me to hear two different conversations about Oscar. Some of the conversations at school hurt me, angered me, and made me frustrated, so I wrote a short story. That short story later became The Hate U Give.
The Hate U Give is an important, tough read. How did it feel to write about a concept that's so powerful and oh so necessary right now?
It was scary, because if you say the words "Black Lives Matter" to three different people, you'll get thirty different responses. But I also hope that the book helps people understand why we say those three words.
What has been your favourite aspect(s) of the entire journey of the book?
Receiving feedback from people who have read the ARCs has been the best part, by far. Knowing that people have not only enjoyed my words but connected with the characters and the story means the world to me.
What would you like to say about the representation of black MCs in YA, especially the need to highlight concepts such as privilege, discrimination and injustice?
I hope we see more black MC's in YA books, and although those are important concepts, I do hope that we get a wide-range of stories with black protagonists. I want to see black kids fighting dragons and going on heists and experiencing first loves, too.
THUG is an #ownvoices novel. Share with us your thoughts on the importance of #ownvoices books in YA and your experience as one.
#OwnVoices are extremely important because they give us the most authentic windows and mirrors when it comes to marginalized characters. This is not to say that authors cannot and should not write outside of their experiences, but there is definitely a noticeable difference between books written by #ownvoices versus non-#ownvoices. As an #ownvoice writer myself, I've had people tell me that I opened their eyes to issues and subjects, and I'd like to think part of that is because I share the same marginalization as Starr, and therefore I can provide the best window possible.
What advice would you give for aspiring authors, especially but not limited to POC?
1. Write the story you're afraid to write.
3. Make your characters their authentic selves.
4. It only takes one yes.
What do you feel about the movie news? Are you nervous/thrilled/excited? :D
I'm extremely excited about the movie! The script is currently in development, and I can honestly say that I have the best team possible working on it. George Tillman and Audrey Wells (the director and screenwriter, respectively) have such an amazing vision for this movie that I almost wish they co-wrote the book with me :).
Can you share with us what you're working on next?
I'm working on my second YA novel. It is not a sequel to The Hate U Give, but more of a spin-off -- it's set in the same neighborhood, and there are minor characters from THUG who have major roles.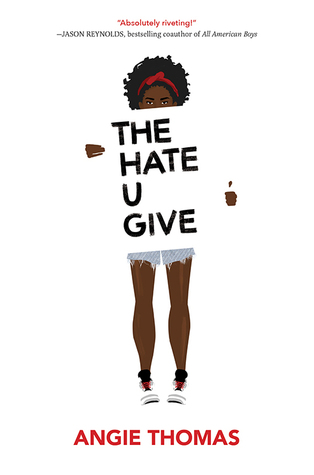 Author : Angie Thomas
Publisher : Balzer + Bray
Release Date : February 28th 2017
Sixteen-year-old Starr Carter moves between two worlds: the poor neighborhood where she lives and the fancy suburban prep school she attends. The uneasy balance between these worlds is shattered when Starr witnesses the fatal shooting of her childhood best friend Khalil at the hands of a police officer. Khalil was unarmed.
Soon afterward, his death is a national headline. Some are calling him a thug, maybe even a drug dealer and a gangbanger. Protesters are taking to the streets in Khalil's name. Some cops and the local drug lord try to intimidate Starr and her family. What everyone wants to know is: what really went down that night? And the only person alive who can answer that is Starr.
But what Starr does or does not say could upend her community. It could also endanger her life.
About the Author
Angie Thomas was born, raised, and still resides in Jackson, Mississippi as indicated by her accent. She is a former teen rapper whose greatest accomplishment was an article about her in Right-On Magazine with a picture included. She holds a BFA in Creative Writing from Belhaven University and an unofficial degree in Hip Hop.She is an inaugural winner of the Walter Dean Myers Grant 2015, awarded by We Need Diverse Books. Her debut novel, The Hate U Give, was acquired by Balzer + Bray/HarperCollins in a 13-house auction and will be published on February 28, 2017. Film rights have been optioned by Fox 2000 with George Tillman attached to direct and Hunger Games actress Amandla Stenberg attached to star.