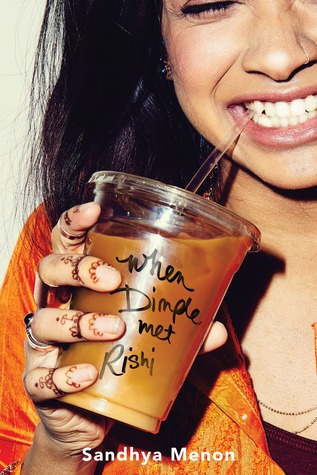 Title : When Dimple Met Rishi
Author: Sandhya Menon
Release Date : May 30th 2017
Publisher : Simon Pulse
A laugh-out-loud, heartfelt YA romantic comedy, told in alternating perspectives, about two Indian-American teens whose parents have arranged for them to be married.
Dimple Shah has it all figured out. With graduation behind her, she's more than ready for a break from her family, from Mamma's inexplicable obsession with her finding the "Ideal Indian Husband." Ugh. Dimple knows they must respect her principles on some level, though. If they truly believed she needed a husband right now, they wouldn't have paid for her to attend a summer program for aspiring web developers…right?
Rishi Patel is a hopeless romantic. So when his parents tell him that his future wife will be attending the same summer program as him—wherein he'll have to woo her—he's totally on board. Because as silly as it sounds to most people in his life, Rishi wants to be arranged, believes in the power of tradition, stability, and being a part of something much bigger than himself.
The Shahs and Patels didn't mean to start turning the wheels on this "suggested arrangement" so early in their children's lives, but when they noticed them both gravitate toward the same summer program, they figured, Why not?
Dimple and Rishi may think they have each other figured out. But when opposites clash, love works hard to prove itself in the most unexpected ways.
Warning : This review is full of a lot of flailing and laden with bollywood gifs - which can get a bit dramatic. Proceed at your own risk.
Was I excited for When Dimple Met Rishi? Hell yes. Did I expect to love the book when I took it up? Of course, it was a given! But was I prepared for the feels and just how much I was going to fall head over heels in love with the story and Rishi? I've got to say no for that. I really didn't expect this amazing and endearing picture perfect YA version of a Bollywood romance. ( The only thing that was missing was dance numbers that make no sense and an airport climax- we almost got the latter - which was a shame, because those would've been just epic ) When Dimple Met Rishi has my sign of approval and undying love and I believe that Kismet brought this book to me.
When Dimple meets Rishi at the SFSU Web Developers Program, she feels angry and betrayed, as she learns that her parents have planned an arranged marriage between them. Marriage is not on her agenda, she is not ready to let a boy get in between her dreams, ambition and career. When Rishi meets Dimple for the first time, he expects to get to know his future wife but instead finds out that she is anything but thrilled about an arranged marriage, but he doesn't let that discourage him. What follows is an endearing and absolutely adorable love story that is heartwarming, cute and beautifully and authentically Indian.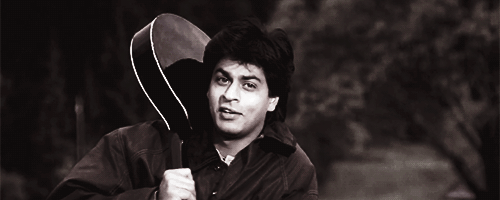 ( Because we can't discuss Bollywood or India without a Shah Rukh Khan gif! ;D)
While I am always ready to flail about any diverse book, Desi MCs do have a special place in my heart. And I've been waiting for a contemporary as perfect as this for a long time! The Indian American experience is authentically portrayed in the story, and being a Tamil, I have such close ties with the Indian culture, and this whole book paid homage to the rich and colourful culture of India in a way which was totally authentic, realistic and blending seamlessly with the story and characters.
One of the main aspects of the story, is the question of identity and belonging. Rishi and Dimple were two spectrums of being a Desi immigrant, while Dimple saw herself more as American, struggling to fit in to her mum's expectations of a perfect Indian daughter, and go along with all the typical roles she's expected to play, Rishi was more rooted in his culture, and always seems to think that India is a part of him, no matter where he lives and dwells. I loved how Sandhya has handled this, and I am sure any Indian American, or any Desi who lives in a foreign country would relate to this so much.
I also loved how Desi the book is. I wasn't kidding when I said that this story is a YA rendition of Bollywood. It was so relatable and realistic. From the households - the dramatic mum, the stifling need for girls to look pretty ( especially the Kajal! :D), the helpless but calm and stoic dad, the aunties who despite never being related to you are a huge part of the family, the mother in law and daughter in law dynamics, the family dynamics period!, the food,the customs - to the teen life, Sandhya has presented her readers a portfolio, a perfect and often hilariously true tribute to the Desi life!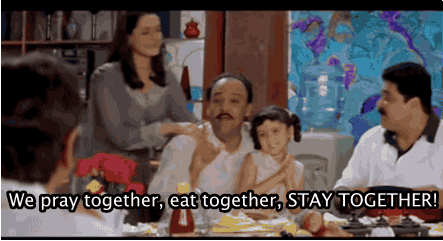 Two other things I want to touch on as well. First, the concept of arranged marriage. I loved the positive take on it, which is something so needed in YA. Not that I am an advocate for it or something, but it's really not as cold or miserable as media portrays it most of the time. Arranged marriages are so common here, and it doesn't come as a surprise when two perfect strangers are introduced through a proposal, get married after a while and actually fall in love and live happily. Hell, I myself would most probably end up in an arranged marriage ( knowing my mum) so it was refreshing to see a positive take on the whole concept.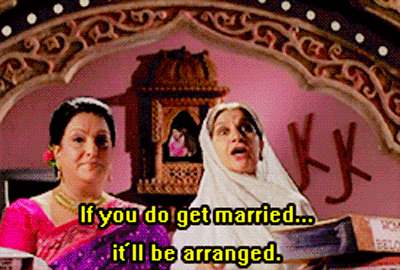 Next it's the conventional expectations. One of Rishi's biggest conflicts in the story is his love for art and the expectations on him to choose computer science and engineering instead. This is such a typical and common conflict for most Desi teens and young adults, especially since anything related to the Arts is heavily frowned upon as a career choice, especially for boys. I myself have gone through the struggle - thank God I had amazing parents who understood my love for Literature - the horde of aunties and unwanted advice on how I should choose something sensible as Medicine or Engineering and not waste my time with the Arts. I related to Rishi so much on this front, and loved being a part of his journey of self realisation and decisions.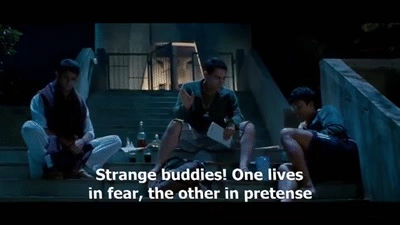 Dimple and Rishi were amazing characters! I loved how both of them were nerds in their own way, and they were so adorable! I related to Dimple's passion and ambition, and I loved her spirit , her no nonsense attitude and her fearlessness. How long have I waited for a desi, brown skinned, kurta wearing, nerdy MC with spectacles? She was a dream come true, and at times, I wanted to cry when I realised this fact.
Too dramatic? Okay, I'll tone it down! ;P
Rishi, oh my new book boyfriend! If my mum finds me an arranged marriage husband like him, I probably won't even complain! :D He was a darling! I love how he was the more romantic out of the two, and the more conservative one as well - and I related to the latter aspect so much! I am a think globally, act locally kind of girl, and Rishi spoke my mind half of the time. The lengths he went to make Dimple happy was just too much to handle, and I was just swooning at everything he did!
And the romance!!! It was just so cute! I loved how unconventional it was, with the meet cute gone wrong and extreme lack of enthusiasm from Dimple's part in the beginning, while also featuring some cliche Desi romance moments. Like that climax. Airport or not, it was still damn cute and romantic. They created all the feels and flails in me, and I was smiling the whole time I was reading the book because of them!
Overall, When Dimple Met Rishi is an instant rec from my side! Because this book just swept me off my feet, and was a perfect YA rendition of everything I love about Bollywood Rom Coms,and whether you love Bollywood or not - if you don't, I really doubt your taste - you'll definitely love this amazing and downright adorable contemporary! And if I show my appreciation for this book in pure Desi style....