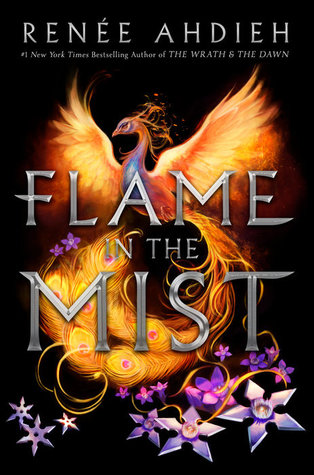 Title : Flame in the Mist
Author: Renee Ahdieh
Publisher : G.P.Putnam's Sons Books for Young Readers
Release Date : May 16th 2017
The daughter of a prominent samurai, Mariko has long known her place—she may be an accomplished alchemist, whose cunning rivals that of her brother Kenshin, but because she is not a boy, her future has always been out of her hands. At just seventeen years old, Mariko is promised to Minamoto Raiden, the son of the emperor's favorite consort—a political marriage that will elevate her family's standing. But en route to the imperial city of Inako, Mariko narrowly escapes a bloody ambush by a dangerous gang of bandits known as the Black Clan, who she learns has been hired to kill her before she reaches the palace.
Dressed as a peasant boy, Mariko sets out to infiltrate the ranks of the Black Clan, determined to track down the person responsible for the target on her back. But she's quickly captured and taken to the Black Clan's secret hideout, where she meets their leader, the rebel ronin Takeda Ranmaru, and his second-in-command, his best friend Okami. Still believing her to be a boy, Ranmaru and Okami eventually warm to Mariko, impressed by her intellect and ingenuity. As Mariko gets closer to the Black Clan, she uncovers a dark history of secrets, of betrayal and murder, which will force her to question everything she's ever known.
Let me come clean first. All I know of Japan is from movies and stories. So I guess I shouldn't pretend I am an expert in dissecting the representation . Having said that, I grew up with a father who was obsessed with any form of fighting, and that meant I grew up watching movies rich of martial arts - any Seven Samurai fans here? I love that movie to death - so I was beyond excited when I heard about this book. I love exploring the diverse cultures of Asia, and it's a never ending quest of rich and layered traditions, beliefs, myths and ways of life. That combined with the fact that it was written by Renee - who swept me off my feet with her Wrath and the Dawn - and was repped to be inspired by Mulan - which is hands down one of my fav Disney movies ever - kept me wanting to read the story so badly, and when I finally got the chance, Flame in the Mist didn't disappoint even a little bit.
Mariko meets with an ambush while on her way to meet her betrothed - the son of the emperor - and when she learns that the notorious Black Clan is behind her attack, she yearns to find out who wants her dead so badly that they sent the clan for her. Disguised as a boy, she manages to join the Black Clan, and while her revenge plan seems possible at first, she doesn't expect to actually feel at home with the warriors of the Black Clan, nor does she expect to fall for their irritable second in command. While Mariko tries to find answers, her brother embarks on a quest to find her, while a dangerous game of politics, lies, deceit and magic is woven around all of them.
I wouldn't call Flame in the Mist a Mulan retelling. Though Mariko does have a lot of similarities with Mulan - the disguise as a boy, the feministic aura of the story and especially the romance. However, aside from these factors, Flame in the Mist is it's own story, and Mariko is her own heroine. Also, some readers would also find the book really similar to Renee's Wrath and the Dawn. While the writing, the descriptions, the pacing could all be called as the author's signatures, certain aspects of the romance and the way the plot moved, was starkly similar to her debut, so whether you liked Wrath or not, could actually play a part in your liking of this book.
Flame in the Mist is a beautiful tribute to Japan. From the gorgeous descriptions of the customs, the food, the traditions and norms, the book takes you to a visual journey to the luxuries and delicacies of the Imperial city of Inako, the magic and curiosity of the Jukai forests and an experience of Feudal Japan. Like I said before, I wouldn't know to comment on how accurate it is exactly, but from what I read and do know about the country, Renee did Japan justice.
Mariko was terrific. It didn't take me long to love her, and even though at times, her decisions weren't of my approval, they made her very much realistic. From her bravery, determination and intelligence to her conflict within herself and her loyalties, she was a delight to read about. Her cleverness was given due credit in the story and by the characters, and I loved that factor.
Flame in the Mist was also extremely feminist. The book addressed and challenged the conventions that I often wish SFF and historical fiction do, and it was not only done by Mariko, but also by other characters such as the love interest and the members of the Black Clan, and that was truly amazing. Plus, it's not every day I come across a sex positive YA fantasy, so extra kudos to the book for that.
I've been waiting eagerly to start talking about the love interest - Okami. Man, was he perfect! Arrogant and irritable at first, but reveals himself to be of a character of so much depth, so many emotions and ticked all the boxes to become your next book boyfriend. I fell in love with him from his first very scene itself.
Mariko and Okami butt heads with each other from the very beginning, and it's been a long time since I read a good hate to love trope, and I adored every moment of it. Okami's confusion over why an annoying boy is creating such conflicting feelings in him was well dealt, and the romance was swoony and full of tension without being the central point of the book. All in all, I have found my next OTP.
I loved the Black Clan. Ranmaru, Ren, Yoshi, Haruki were all great characters on their own, and I also adored Mariko's brother Kenshin, who despite all his battle prowess, was just a confused boy I wanted to hug tightly. Flame in the Mist also held quite a few antiheroic characters with so much layers which is yet to be revealed, and I am waiting for the sequel to give me all the answers.
Overall, Flame in the Mist is an amazing read and an instant recommendation, especially if you like assassin stories, a story with a slow build and lots of mysteries and badass heroines. I am burning to read the sequel and to find the answers to all the questions this book had raised, and 2018 really couldn't come fast enough.