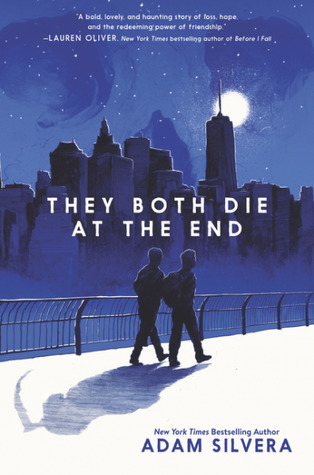 Title: They Both Die at the End
Author: Adam Silvera
Release Date: September 5th 2017
Publisher: HarperTeen
Synopsis:
New York Times bestselling author Adam Silvera reminds us that there's no life without death and no love without loss in this devastating yet uplifting story about two people whose lives change over the course of one unforgettable day.
On September 5, a little after midnight, Death-Cast calls Mateo Torrez and Rufus Emeterio to give them some bad news: They're going to die today. Mateo and Rufus are total strangers, but, for different reasons, they're both looking to make a new friend on their End Day. The good news: There's an app for that. It's called the Last Friend, and through it, Rufus and Mateo are about to meet up for one last great adventure—to live a lifetime in a single day.
Sometimes you a read a book so profound and deep that you can never be the same after you turn that last page. Adam Silvera's last book, History is All You Left Me, was such a book for me, so when I got ready to read They Both Die at the End, I wasn't expecting any less from Adam. And with a title like that, I knew that I am in for a tearjerky ride, but still, I foolishly thought that I can steel my heart enough to survive this book. When I finished the book, I realised that it was a fruitless attempt anyway, because once again, Adam managed to completely destroy me, drown me in feels and leave a lasting impact with this beautiful, honest and heartbreaking story of the last day of two remarkable boys.
Mateo and Rufus are going to die today. Two boys who would've never known each other, become each other's companion on their last day. What begins as an attempt to make the best of their last day evolves into a day of self discovery, change, beautiful memories and a life changing experience.
Stories that wrap up in the course of 24 hours fascinate me. The fact that an otherwise insignificant day becomes a crucial pivot point in someone's life by chance? The amount of growth a character goes through in a day? It reveals the possibility that change is not a matter of time. While I rarely see books like that in YA - the only other amazing example that comes to my mind being Graffiti Moon - I LOVE movies that do this. Ferris Bueller's Day Off, Before Sunrise, Breakfast Club...all of them manage to portray this exhilarating one day, that one day making so much impact in the characters' and our lives. The same way, They Both Die At the End takes control of one single day, but that day is made intense because of the countdown clock ticking, that death can meet the boys anytime within those 24 hours. The roller coaster ride that this book is, starts slow, making you aware of the seconds ticking by, to a point where you forget that clock, and just get swept away by the magic of the day, only to come crashing back, as you near the end of the book, the fear starts to kick in, because now, the boys have become so much more, just as they have to each other, that there'll be nothing you dread more than reaching the end of the book.
The book is not just Mateo's and Rufus' story. Even though that's what it looks like, and even though we spend most of it with the two boys, the story is not just of them. We get to see a glimpse of people around them, directly or indirectly linked to the boys, those who got the call at midnight and those who didn't, all the minor characters' lives connected to each other in a thin yet beautiful thread that makes this book an experience beyond the central plotline. Whether it be Mateo's best friend Lidia, a single mother whose strength astounds me, while her pain hitting me hard, Rufus' friend Tagoe who has one single chapter POV which is so insignificant to the overall story, but was a suckerpunch to me, because he described the urge of a tic so perfectly that a girl with Tourette Syndrome could only stare at that passage wanting to cry, little characters throughout the story whose life and fate become so important to you that they won't leave your mind - whether it is a girl who's trying to defy death, an unlucky knockout king, a suicidal writer or a graffiti artist who leaves monuments of the last friends she meets.
That being said, Mateo and Rufus are unforgettable, and you become so invested in their story, that it stops being their end day, and becomes ours. While both of them go through the same experiences, the transformations in them is very different. They both had very distinct personalities, and while I related the most to Mateo - to whom my heart went out as soon as he was introduced, because he was so much like me - I didn't love Rufus any less.
Mateo's life was full of regrets of what he could've done, and his transformation was full of shedding his inhibitions, his insecurities and dealing with his anxiety. And no before you assume, he doesn't magically lose his anxiety, which I adored, because it's not something that goes away that easily - I can stand proof of that - and his character arc was so realistic, and I felt like part of myself went through a change as his character grew.
I grew to love Rufus slowly. Maybe I was so engrossed in Mateo's voice, that I saw Rufus just as he saw him, and fell in love with him slowly, just as he did. And speaking of, their relationship was just lovely. The beautiful journey of strangers to friends to falling in love was gradual, casual and perfect.
The next passage is a spoiler. Highlight the words if you want to read them.
I am happy they died. Like,I mean, of course, I didn't want them to die, but it felt natural that they died. I loved the fact that the MCs aren't two special snowflakes who defied the rules or something, and even though their death broke me, and ripped my heart to pieces, there was something satisfying in knowing that they didn't die with any shortages. And that ending.....it was just perfect. So perfect that when I realised that the acknowledgements page is next, I was just staring at it dumbfounded.
End of spoiler.
Adam's writing is spectacular as always. The book is a ride, and unlike the NYC subways, there's no interruptions because his words flow so smoothly. And the story and experiences are poignant that the transformation is not only for the characters but also for the readers. When I said that I'll never be the same again, I wasn't exaggerating. They Both Die at the End gives you a glimpse of regrets, opportunities, memories and life itself that it makes you want to shred those fears, to face your insecurities and live your life everyday as if it's your last day.
They Both Die at the End would make you cry, will break your heart, but nevertheless, I'd definitely recommend it to you. Even though it's dystopian, I would call it a contemporary with a touch of scifi, and it's also a must read to anyone who loves a good character arc. They Both Die at the End is the type of story that won't leave your mind for a while after you finish - at least that's what happened to me, I was straight up sobbing after I came out of my post reading trance - and it will definitely create at least the smallest of changes in you, forever.