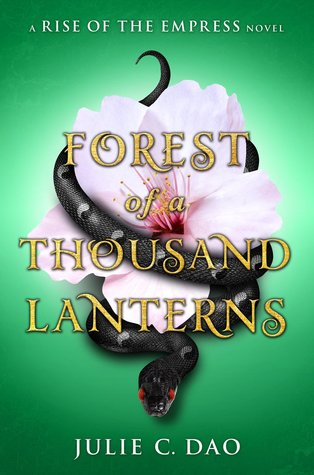 Title : Forest of a Thousand Lanterns
Author : Julie C.Dao
Release Date : October 10th 2017
Publisher : Philomel Books
Synopsis:
An East Asian fantasy reimagining of The Evil Queen legend about one peasant girl's quest to become Empress--and the darkness she must unleash to achieve her destiny.
Eighteen-year-old Xifeng is beautiful. The stars say she is destined for greatness, that she is meant to be Empress of Feng Lu. But only if she embraces the darkness within her. Growing up as a peasant in a forgotten village on the edge of the map, Xifeng longs to fulfill the destiny promised to her by her cruel aunt, the witch Guma, who has read the cards and seen glimmers of Xifeng's majestic future. But is the price of the throne too high?
Because in order to achieve greatness, she must spurn the young man who loves her and exploit the callous magic that runs through her veins--sorcery fueled by eating the hearts of the recently killed. For the god who has sent her on this journey will not be satisfied until his power is absolute.
It's a widely known fact that I adore my bad guys. I love the villains, the antiheroes, the morally gray characters and the villain protagonists. Villain backstories are my drug, and I'll never get tired of a good villain origin tale and the journey and making of an antagonist. So naturally, I've been dying to read Forest of a Thousand Lanterns. The backstory of the evil queen of Snow White, and with a Chinese twist? If Xifeng was destined to be empress, I was destined to love the book! And I totally did.
Xifeng was born to be empress. Beautiful, ambitious, clever and ruthless in her goals, she strives to reach the heights that is written for her, and isn't hesitant to face any and all obstacles that stand in her way. Getting away from her abusive Guma's grip and running away with her lover Wei to the Imperial City is just the beginning. When she manages to get inside the palace, she makes both allies and enemies, discovers her full potential and manifests into the empress she was destined to be, while embracing the darkness that ensures that the fairest of them all would rule them all.
Often villain backstories fail in their motive when they end up producing a sympathetic flashback. The making of the villain is founded by excuses, vulnerabilities, fate and unfortunate circumstances. I rarely come across stories where the MC owns their villainy, accepts their nefariousness and is perfectly fine with being who they are. Forest of a Thousand Lanterns gives us a villain protagonist who doesn't shy away from anything. In Xifeng I saw the creation of the perfect villain. One who knows that she's trudging in the path of evil, who is well aware that she has turned her back on morality, and yet marches on to achieve greatness in the way she sees fit, unapologetic, and I loved her for it.
The infusion of Chinese mythology into the classic world of Snow White was brilliant. I always love it when retellings are given a diverse twist, and the world building of the book was just amazing. The story was rich in culture as it was in plot and characters, and I adored every moment of it.
I guess I've told enough about how much I love Xifeng, but guys, she's just everything I wanted from a villain protagonist. Her character portrayal was tremendous, and you'll never know whether to love or hate her. She'll make you invested in her journey, and would seduce you into cheering for her in a twisted way, that by the time you are done with the story, you would realise just how masterful Julie's creation is.
I just want to push this book on ALL OF YOU. It's a must read, and one of my favourite reads of 2017, and def one of my all time favs. I'd recommend it to any fantasy fans, especially to lovers of retellings and those who love their villains, just as yours truly do, and I assure you, Forest of a Thousand Lanterns will not disappoint you.