If you know me, you know that I consider When Dimple Met Rishi one of the best things that 2017 has brought to me. I adore the book to pieces and have flailed enough to let you all know that you guys need to read this book! Today we have the lovely author of WDMR,Sandhya Menon on the blog today, and let's get into all the Desi goodness!
Heartwarming, relatable, will-make-you-craugh (cry + laugh), family, kissing! Okay, I know I totally cheated, but you forgive me, right? :)
What inspired you to write When Dimple Met Rishi?
The need for more sweet, happy stories about marginalized teens!
What would you like to say about the need for more South Asian representation in YA?
PUBLISHERS, PLEASE GET ON THIS. Seriously, though, I think publishers in the US have been really upping their diversity game, and I'm so happy about that. My own team at S&S is amazing about this and very vocal about the need for more South Asian--and other marginalized--representation.
When Dimple Met Rishi is an #ownvoices novel which made the depiction of the Desi life extremely authentic. Share with us your thoughts on the importance of #ownvoices books in YA and your experience as one.
Thank you! :) I think the #ownvoices movement is such an incredibly powerful one because it empowers those who've been historically silenced. There's nothing quite so magical as seeing yourself represented in story; it changes not only people's brains, but also their destinies. It opens doors for us that we didn't even know were there.
I like to call the book a perfect Bollywood Rom Com, so what are your favourite bollywood rom com gems? ( I am pretty sure this would be a hard list to summarise #sorrynotsorry)
Haha, sooo difficult! I'd say my #1 favorite has been Rab Ne Bana Di Jodi ever since it came out, which is why it features in When Dimple Met Rishi! I've also loved the first Krrish, Kuch Kuch Hota Hai, Dilwale Dulhaniya Le Jayenge, and Piku, among so many, many others.
What has been your favourite aspect(s) of the entire journey of the book?
Connecting with readers like you! OMG, it has been a total dream come true to have people tell me the books has resonated with them and that they're so happy to finally see themselves, their family, and their friends in a YA contemporary novel.
What advice would you give for aspiring authors, especially but not limited to POC teens?
Find your tribe! This is especially important for POC/marginalized teens, but really is a good rule-of-thumb for any writer (and if you're currently writing, you're a writer, not an aspiring one! :)). It's so important to find friends who you can be yourself with, who'll listen without judging or asking you to explain yourself, who'll celebrate your successes without letting their jealousy get the better of them. Once you find these people (and not gonna lie, it can take years), hold on to them and bribe them with cookies so they'll never leave!
Can you share with us what you're working on next?
I just finished one round of edits for my next contemporary YA novel coming out in the summer of 2018! I can't wait to share more with you all, but until then, you can add it on Goodreads here if you like!
http://bit.ly/2oP9hii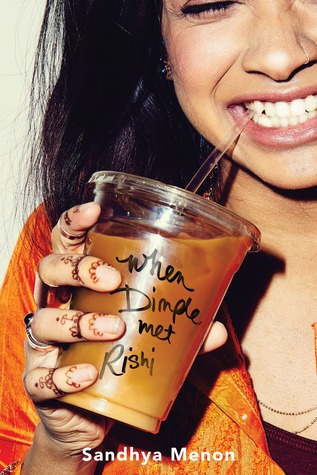 Title :
When Dimple Met Rishi
Author: Sandhya Menon
Release Date : May 30th 2017
Publisher : Simon Pulse
A laugh-out-loud, heartfelt YA romantic comedy, told in alternating perspectives, about two Indian-American teens whose parents have arranged for them to be married.
Dimple Shah has it all figured out. With graduation behind her, she's more than ready for a break from her family, from Mamma's inexplicable obsession with her finding the "Ideal Indian Husband." Ugh. Dimple knows they must respect her principles on some level, though. If they truly believed she needed a husband right now, they wouldn't have paid for her to attend a summer program for aspiring web developers…right?
Rishi Patel is a hopeless romantic. So when his parents tell him that his future wife will be attending the same summer program as him—wherein he'll have to woo her—he's totally on board. Because as silly as it sounds to most people in his life, Rishi wants to be arranged, believes in the power of tradition, stability, and being a part of something much bigger than himself.
The Shahs and Patels didn't mean to start turning the wheels on this "suggested arrangement" so early in their children's lives, but when they noticed them both gravitate toward the same summer program, they figured, Why not?
Dimple and Rishi may think they have each other figured out. But when opposites clash, love works hard to prove itself in the most unexpected ways.