It's been a while since I graced all of you with my awesome presence. Well, I was in a very bad reading and blogging slump following A/Levels, but now I am all right and am officially back!!!
I was browsing through my goodreads shelves and realised that there's quite a number of YA and MG books coming out later this year and in 2018, which have desi protagonists, and almost all of them are ownvoices. There was a time when I had to dig deep to find these gems. You guys have no idea how glad I am that we've made so much progress. There's still a long way to go, but I am happy and excited about what we are getting in the near future, so I decided to share my finds with you all.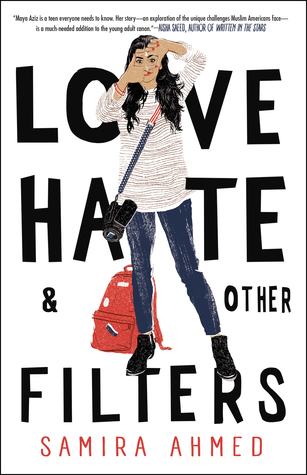 This debut by the wonderful Samira - she's hands down, one of my favourite people ever - is going to be revolutionary, I can already say that. Maya's story is about how a Muslim teen in the US faces Islamaphobia, and it's a concept that's so current, and oh so relevant to today's reality. In addition, Maya is your typical Indian American teen, and the book showcases some beautifully authentic desi life moments, especially in terms of family dynamics
( October 2017)
I very rarely read MG, and I have never read a graphic novel before, yet I took up Pashmina, as something about the synopsis appealed to me. And I am glad I did. It's a beautiful story about an Indian American girl coming to terms with her identity while exploring the roots of her culture and heritage. It also consists of heartwarming family moments, especially between mother and daughter. The art is stunning, and so authentic. If you read graphic novels, you should give this one a try.
(2019)
This is the book I never knew I wanted. The world knows how much I loved WDMR, so to learn that it's getting a sequel/companion was the best news ever. This book follows the story of Rishi's brother Ashish - whom I adored so much in WDMR, and can't wait to see more of. Plus it's a love story post breakup, and I've always wanted to read one in YA - because often YA pretends that break ups and moving on don't happen - and all we know so far about the female lead is that she's a badass, fat athlete. Why is 2019 so far away?
P.S - I am hoping for a lot of Dimple/Rishi cameos.
( February 2018)
The book is actually set in Saudi Arabia, however, I am assuming at least one of the main leads or a main character is South Asian, from the insider info I do know, plus the author is South Asian herself, so I couldn't not include Tanaz's debut in this list. This book is poignant, heavy and a lot of reviewers have compared it to The Fault in Our Stars, so I guess we are in for an emotional ride?
5. Aru Shah and the End of Time by Roshani Chokshi
( April 2018)
Any book by Roshani, especially an Indian fantasy, would have been an autobuy for me, and once I read the synopsis, I was completely sold. This MG is the story of an adventure the MC embarks on when she accidentally ends up freeing a demon, and the best part is the connection to Mahabharata. Mahabharata is the Indian epic that literally dominated my entire childhood, and I have mad love towards the story and its characters. So once I saw the fact that reincarnations of the five main characters of the story - the Pandava brothers - are involved, I knew that I HAVE to read this book.
(May 2018)
You can't go wrong with bollywood. Everything about this story sounds delightful, especially Winnie, our MC a.k.a a self claimed Bollywood expert. Even reading the synopsis reminds of a Bollywood movie, and I just can't wait to read it. Get ready for some iconic Bollywood tropes, dramatic situations, a perfect love story and of course, the dance sequences! :D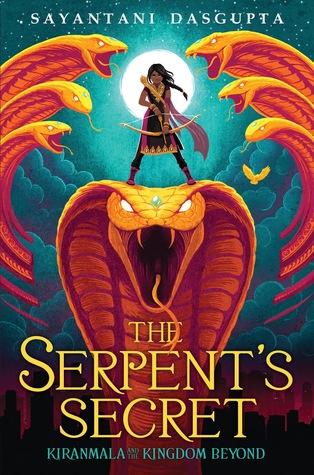 7. The Serpent's Secret by Sayantani DasGupta
( February 2018)
Do you remember how I was swooning over the Library of Fates cover regarding how it was so inspiring? This book's cover evoked the same feelings. I can just keep looking at that badass brown girl and get goosebumps. Apart from that, the book is going to present to us a demon slaying Indian princess. Enough said.
8. Ahimsa by Supriya Kelkar
(
October 2017)
Even before reading the book, I can tell you that this is a must read. Set during the freedom struggle in India under the British rule, the story explores the life of a girl who's mother joins Mahatma Gandhi's movement and Ahimsa principles - resistance in a non violent manner. Her life changes as she faces her prejudices and gets involved in the fight for independence. I love stories set during the freedom struggle, and do make sure to check this one out.
9. The Night Diary by Veera Hiranandini
( March 2018)
This story on the other hand, is set immediately after India's independence, following the partition that separated India and Pakistan. Nisha is a half Muslim, half Hindu teen who doesn't know what her identity or home country is anymore, and the story follows her struggle in the form of letters which she writes to her mother. This story sounds beautiful, and explores the sensitive concept of the Hindu - Muslim tension that prevailed during the period.
10. Rise As One by Ashok K.Banker
(2018)
I don't know much about this upcoming series, except that it sounds epic. It follows a young thief and her gang, in a battle against a brutal tyrant and a demon invasion, and in addition, said gang features POC, LGBTQIA+ and disabled protagonists. I need this already.
11. Markswoman by Rati Mehrotra
(
January 2018)
The story is about an order of magical-knife wielding female assassins. My only sentiment is why do I have to wait to read this, because this has my auto approval with that one sentence! In fact, the group is named as the Order of Kali - the supreme Hindu goddess whom I have so much awe and respect for. This seems to be an epic tale of magic, vengeance, murder and a lot of action, and I am so excited for it.
12.
Amal Unbound by Aisha Saeed
( May 2018)
The synopsis reminds me of an Indian TV show I used to love - the name was Udaan, if you're curious. The book narrates the story of a young girl from Pakistan who's forced into indentured servitude. This is a topic that needs to explored in YA, and I am glad that it is finally happening. Bonded labour, and indentured servitude is a reality in many rural villages in India and Pakistan, and corrupt legal systems prevailing in these areas doesn't give much chance for hope, and such stories needs to be told, to actually bring the reality to light.
13. From Twinkle With Love by Sandhya Menon
( 2018)
This is the second Menon book in this list. She's going to keep me drowned in all the feels I guess. Not that I am complaining. I am expecting yet another adorable and heartwarming love story from her, and I am already excited about the two main leads, as they're film geeks. Because if there's one thing I love a loooooot after books, it's movies, and I can't wait to read about the delightful aspiring film maker and her adorkable love interest.
14. A Spark of White Fire by Sangu Mandanna
( 2018)
When I read the phrase "multicultural YA space opera inspired by the Mahabharata",I was sold. I have told again and again how much I love the freaking epic, so I shall refrain from yet again reminding you all about it. The synopsis also hints that it might be the story of Karna ( as we're talking about "forgotten child" and "wrong side of war") WHO'S MY FAVOURITE CHARACTER IN THE ENTIRE EPIC OF LIKE FIVE HUNDRED ODD CHARACTERS. Well, you can guess that I am excited about this. :D
Those are the upcoming desi YA/MG books I am excited for! Which ones are you looking forward to? Have you read any from the above? Do you have more recs for me that I have missed?