Welcome to my stop of the official blog tour of A Forest of a Thousand Lanterns! I can't believe the book's release is so near. You guys probably know by now how much I love the book, the concept and Julie, so I am extremely excited as October 10th draws near!
Today, we have the wonderful Julie over at the blog, talking about my favourite concept ever - Villains!
On Villains and Backstories : What makes them interesting?
Back in May, I took a public speaking course for authors at the Highlights Foundation. At the end of 4-5 workshop days, we had a final assignment: pick a topic related to our books and talk about it for one hour to schools nearby.
What did I pick? My favorite character tropes: villains and antiheroes, of course!
Xifeng, the main character of FOREST OF A THOUSAND LANTERNS, is based on a famous villain (the Evil Queen from Snow White) and is herself what many would consider an antihero.
An antihero is defined as a main character who doesn't have the usual heroic qualities. Most heroes tend to possess characteristics like courage, integrity, honesty, kindness, and compassion. They always try to do the right thing and learn from their mistakes.
Antiheroes, however, are ruled by human qualities: fear, anger, greed, the desire for vengeance, paranoia, low self-esteem, and so on. They often make bad choices and cross into that space of shady morality known as the "gray area" to get what they want. This differs from villains, who are typically presented as ALL evil, with flat motivations that involve beating the hero (just because) or wanting to rule the world (just because).
Where a villain becomes an antihero is when the writer gives them redeeming qualities and an urge the audience can understand. Maybe this character longs to be feel safe. Maybe they are seeking vengeance for past wrongs. Maybe they want to protect loved ones at all costs. Maybe they are chasing after an impossible dream. Or perhaps they crave power because they sincerely believe they can make the world a better place. They may go about accomplishing these goals in exactly the wrong way, but at least readers get the drive behind their actions.
The books I love to read – the ones I pick up over and over again – are the ones whose characters make me feel something. That's what antiheroes do for me. They make me think and give me a dilemma: "Do I hate this character even though I get where they're coming from? Or do I love them in spite of all the bad things they do?"
I'm so excited for you all to read FOREST OF A THOUSAND LANTERNS and meet my own antiheroine, and I hope you will find her to be a worthy and compelling character!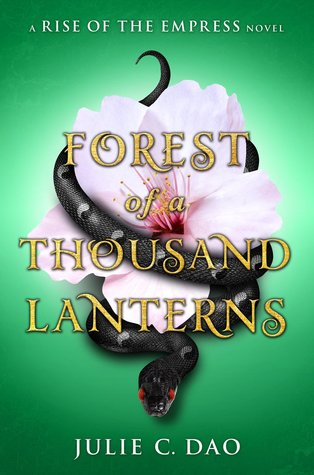 Title : Forest of a Thousand Lanterns
Author : Julie C.Dao
Release Date : October 10th 2017
Publisher : Philomel Books
An East Asian fantasy reimagining of The Evil Queen legend about one peasant girl's quest to become Empress--and the darkness she must unleash to achieve her destiny.
Eighteen-year-old Xifeng is beautiful. The stars say she is destined for greatness, that she is meant to be Empress of Feng Lu. But only if she embraces the darkness within her. Growing up as a peasant in a forgotten village on the edge of the map, Xifeng longs to fulfill the destiny promised to her by her cruel aunt, the witch Guma, who has read the cards and seen glimmers of Xifeng's majestic future. But is the price of the throne too high?
Because in order to achieve greatness, she must spurn the young man who loves her and exploit the callous magic that runs through her veins--sorcery fueled by eating the hearts of the recently killed. For the god who has sent her on this journey will not be satisfied until his power is absolute.
About the Author
Julie C. Dao
(
www.juliedao.com
) is a proud Vietnamese-American who was born in upstate New York. She studied medicine in college, but came to realize blood and needles were her Kryptonite. By day, she worked in science news and research; by night, she wrote books about heroines unafraid to fight for their dreams, which inspired her to follow her passion of becoming a published author.
Forest of a Thousand Lanterns
is her debut novel. Julie lives in New England. Follow her on Twitter @jules_writes.


Giveaway
Enter for a chance to be one (1) of three (3) winners to receive a hardcover copy of Forest of a Thousand Lanterns

by Julie Dao. (ARV: $18.99 each).
NO PURCHASE NECESSARY. Enter between 12:00 AM Eastern Time on October 2, 2017 and 12:00 AM on October 27, 2017. Open to residents of the fifty United States and the District of Columbia who are 13 and older. Winners will be selected at random on or about October 30, 2017. Odds of winning depend on number of eligible entries received. Void where prohibited or restricted by law.
Follow the rest of the tour!