Title : Batman : Nightwalker
Author : Marie Lu
Publisher :
Penguin Random House
Release Date :
January 2nd 2018
Synopsis :
Before he was Batman, he was Bruce Wayne. A reckless boy willing to break the rules for a girl who may be his worst enemy.
The Nightwalkers are terrorizing Gotham City, and Bruce Wayne is next on their list.
One by one, the city's elites are being executed as their mansions' security systems turn against them, trapping them like prey. Meanwhile, Bruce is turning eighteen and about to inherit his family's fortune, not to mention the keys to Wayne Enterprises and all the tech gadgetry his heart could ever desire. But after a run-in with the police, he's forced to do community service at Arkham Asylum, the infamous prison that holds the city's most brutal criminals.
Madeleine Wallace is a brilliant killer . . . and Bruce's only hope.
In Arkham, Bruce meets Madeleine, a brilliant girl with ties to the Nightwalkers. What is she hiding? And why will she speak only to Bruce? Madeleine is the mystery Bruce must unravel. But is he getting her to divulge her secrets, or is he feeding her the information she needs to bring Gotham City to its knees? Bruce will walk the dark line between trust and betrayal as the Nightwalkers circle closer.
Growing up, I've always loved Batman. No I was not one of those ultra passionate fans who've read all the comics, watched the cartoon, know his history inside out - I was rather a girl who grew up loving the idea of the dark knight and what he stood for. I watched the movies, have always wanted to ride the batmobile and have often flirted with an ambition of becoming a superhero myself. ( Needless to say, I have dropped that dream somewhere along my teen years) The idea of his backstory, especially written by Marie Lu, who's fast becoming one of my favourite authors, was so exciting, and I am thrilled that the end result was just about perfect.
Marie Lu has managed to capture every thing I love about Bruce Wayne in his teen self. Batman has always stood out to me because of how real he is, at least as real as a superhero can be. He doesn't have superpowers, nor a destiny and is a man who can very well turn a blind eye to the darkness of Gotham city and still go on with his life. To me, Batman represents a normal man's reactions to the crimes around him, a privileged man who uses his abilities, wealth and privilege for the right thing, and a hero who questions one's choice to stay idle and silent when things around are not alright.
I can totally envision the teenage Bruce Wayne we meet in this book as the caped crusader in the future, and that's where Marie Lu has nailed the backstory. He's not a perfect superhero yet, he's impulsive, his generosity and kind heart isn't always backed by smartness and logic, he makes mistakes and he often needs others' help to set things right. But he has everything that is required of a superhero in making, and I absolutely adored him for that. I am glad that Marie Lu didn't take a leaf out of Christopher Nolan's book and try to make her Bruce a complete antihero. Bruce did have darkness in him, but it was more like a boy with a Hufflepuff heart and the hint of Slytherin lodged deep within him, which was a perfect rendition of a teenage Batman.
Madeleine, oh my love. I loved her beyond description. She existed in a thin line between antihero and villain, and throughout the book I was entranced, awed and manipulated by her along with Bruce, and completely fell in love with her just as he did. The interactions Bruce and Madeleine had in the prison reminded me of Silence of the Lambs, and subsequently Madeleine gave me Hannibal Lecter vibes. Also that chemistry, damn. I have never gone through a book where I was constantly wondering whether I should ship two people or not. They sure had some amazing dynamics.
The book had some great characters. Some canon names made an appearance; Alfred - the fan favourite butler and his charming Britishness, Harvey Dent - Bruce's friend who'll later become Two Face, Gordon, Lucius Fox. I liked the non canon additions, especially Dianne - Bruce's smart and fearless best friend and Draccone - the badass detective.
Batman had all the action, tech and thrill you'd expect from the book. The writing was fast paced, and will keep you hooked. There's suspense, and certain things you'll never see coming. Especially everything regarding Madeleine - that girl is so unpredictable.
But my favourite aspect of this story, and something I really wanted to touch on, is Bruce's character arc regarding his privilege.Bruce is a fortunate kid, he has considerable amount of wealth, he's privileged and he knows it. The whole book is a steady journey of how he comes to term with just how privileged he is, and how he transforms as a hero who uses the exact same privilege to do something he can. Generosity is not just about charity, and understanding and pity alone doesn't compensate for someone's pain, and Bruce learns this the hard way. Yes, at times there were people who were unfair to Bruce regarding him "having everything", but he doesn't use that to justify himself by any means. He empathizes with others' pain, cleans toilets at an asylum, learns his lane and to step up when he should, and by the end of the book, the sugar wall around him that was his privilege crumbles, and he becomes the dark knight who's fit to be the savior of Gotham City.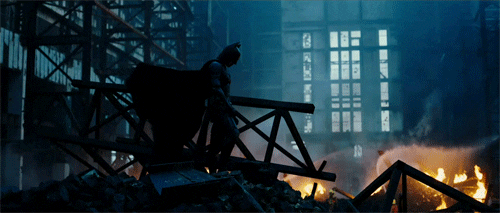 Overall, I would wholeheartedly recommend Batman, whether you're a die hard fan or not. It's a story with a great character arc, brilliant characters, engaging storytelling and a ship that will make you feel things. Do not miss this backstory that will add a new dimension to the already incredible superhero.
This review is part of the International blog tour hosted by Penguin Random House International. A free copy of the ARC was provided by the publisher.