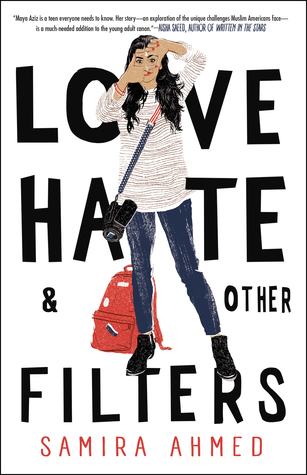 Title : Love, Hate and Other Filters
Author : Samira Ahmed
Publisher : Soho Teen
Release Date : January 16th 2018
A searing #OwnVoices coming-of-age debut in which an Indian-American Muslim teen confronts Islamophobia and a reality she can neither explain nor escape--perfect for fans of Angie Thomas, Jacqueline Woodson, and Adam Silvera.
American-born seventeen-year-old Maya Aziz is torn between worlds. There's the proper one her parents expect for their good Indian daughter: attending a college close to their suburban Chicago home, and being paired off with an older Muslim boy her mom deems "suitable." And then there is the world of her dreams: going to film school and living in New York City—and maybe (just maybe) pursuing a boy she's known from afar since grade school, a boy who's finally falling into her orbit at school.
There's also the real world, beyond Maya's control. In the aftermath of a horrific crime perpetrated hundreds of miles away, her life is turned upside down. The community she's known since birth becomes unrecognizable; neighbors and classmates alike are consumed with fear, bigotry, and hatred. Ultimately, Maya must find the strength within to determine where she truly belongs.
This review is based on an Advance Reader's copy provided by the publisher in exchange of an honest review.
This is the era of wonderfully diverse, unflinchingly honest, timely and relevant YA books, and Love Hate and Other Filters is one such addition in this list of marvelous fiction. Samira Ahmed's take on the story of a second generation Muslim teen in USA is one that people need to read and recommend to everyone possible.
To say that I was excited for this book is an understatement. I am all up for desi teens in YA, and Samira is a great friend - who I am so proud of - and I desperately needed it to meet my expectations. And it totally did. This book was a roller coaster ride, and it took me through a lot of emotions, feels and thoughts.
I had developed a soft corner for Maya even before I started reading the book, just because of the many times Samira has declared me as her real life Maya - she even thought that I should have been on the cover, lol. As I started reading the book, I did realize just how much we had in common - we are both brown girls who dream of going to college in New York, have our ambitions set in a career that's not the usual marketable profession according to desi relatives and are huge dreamers. Maya did things differently than me though, which is why I didn't agree with most of her decisions, but just like I would love a sister no matter how many mistakes she makes, I couldn't help but love Maya completely.
Let me say this though, readers will have mixed feelings about Maya - but that's what makes her amazing. She's not perfect, but her authentic portrayal is. She behaves in a way a typical teen would - she is impulsive, often blinded by her feelings, rebellious and so so real.
I had one single problem with the book - the only reason why I would knock off half a star - and that's the romance. I just didn't feel it. Maya has a huge crush on Phil, and while the romance was cute and endearing, I just wasn't rooting it for some reason. Well, who am I kidding, I was just in love with Kareem, who was a potential love interest. That being said, the romance was actually handled pretty well even though I personally didn't ship it.
I would firmly divide the story into two. The first half is about Maya's inner conflict, the clash between her heart, dreams, feelings and her family and heritage. The second half is much more serious. The islamaphobia Maya faces after a terrorist attack takes the center stage, and the story narrates the way the dynamics of the first half changes due to the impact of the happenings in the second half. It's a delicate balance, and I loved the way Samira took us through it all.
I have to comment on the rep. Maya is a Muslim teen whose roots go back to India - Hyderabad to be exact - and both aspects of her identity is ownvoices, and was portrayed perfectly. I could see the South Asian-ness in herself, her parents and the way it affected her decisions, dreams and views. She's also an embodiment of a very modern, westernized and young desi girl, which also contrasted her from a stereotypical Indian, and as a desi girl of today's world, I could totally relate.
I am not a Muslim, but I have a deeply pious best friend who has taught me enough to be able to know about Islam. Maya is not one you would call a devout girl, to be honest, but still it was her identity, and her religion and race did play a big part in her life, and I loved that. Our culture and religion don't define us, but whether we like it or not, they are a part of our day to day lives. While Samira excelled in painting the big picture with Islamaphobia, I also loved the little things, such as the food restrictions and the marriage pressure. The way we embrace our religion is also different to each one of us, and Maya's relationship with hers might not match with others' and I really hope readers understand that.
I absolutely adored a technique that was used throughout in the book. Maya explained a lot of things as if the story was a movie. It was the filmmaker in her, and it was perfect. The descriptions were cinematographic, and the scenes picturise just as a movie scene would in front of your eyes, and it was hands down one of my favourite aspects of the book. Very few YA books surprise or awe this Lit student on the technique side, so extra kudos for Love, Hate and Other Filters for that. ( The title doesn't have filters for nothing :D)
Overall, this is a beautiful book, a relevant book and an important book. I would recommend it to everyone, this is a perspective and voice that needs to be seen. I humbly ask all my readers to read and talk about the book, and I promise that you won't be disappointed if you take up this amazing story.
Buy the book at