Happy early Valentine's Day all of you!!! :)
Of course, this time around the year, we always talk about romantic reads. Or flail over our OTPs. Or muse over our non canon ships. However, we sometimes talk about the same ships over and over again. I love myself some Sydrian mention, and I would always flail over Kaz and Inej, but today I wanted to spotlight the underrated love sagas of YA that I absolutely love.
1. Griffin and Theo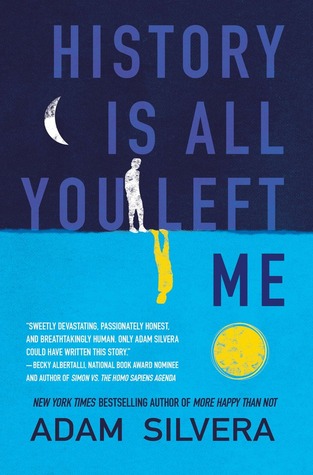 From
This is a book written just to break readers' hearts, and this romance does exactly that. We go into the book knowing that Theo is going to die, in fact, when the story starts, he's already dead. But this love is so tragically beautiful, as we get to see how Griffin and Theo went from best friends to boyfriends, the growing attraction and love between them, how they drifted apart and ultimately the grief that engulfs Griffin after the death of his first love. Their relationship has its ups and downs and is as endearing as it's realistic.
2. Teach and Anne
From
This origin story of the notorious pirate Blackbeard had more romance than there was pirate-y shenanigans, but I have no complain regarding that. Blackhearts was a love story.
A beautiful love story between two brave, passionate and wonderful characters. An unconventional love story between a merchant's son and an illegitimate daughter of a merchant and a slave, born of mixed heritage. A tragic love story of two individuals whose lives are controlled, limited, judged and wronged by the society and its prejudices. Ah, the feels.
3. Ari and Sebastian
From
This was such an adorable romance which kept me smiling the whole time. Ari is an outspoken, endearing, plus sized heroine who is impossible not to love. So of course, quiet little cinnamon roll Sebastian falls for her. The romance might be a little more fluffier than you would expect in a fantasy, but it surprisingly worked with the otherwise fast paced and intense story. Now I am compelled to go and reread the book. *goes off to scan the bookshelf*
4. Isra and Gem
From
It puzzles me that this couple isn't more popular. Their smoldering sexual tension is any hardcore shipper's dream. The Beauty and the Beast retelling explores the beast and beauty in both characters.
Isra is the blind princess who is as strong as she's vulnerable, and Gem is a rebel who is as soft as he's tough. The romance is slow burn, and

it was
beautiful, heartbreaking and magical
5. Em and Cas
From
This is an amazing book, and the romance was the combination of some of my fav tropes - forbidden love, royal romances and hate to love.
Em was everything I love in a fantasy heroine! Not only was she strong, smart, sassy and a badass, she was also ruthless and as morally ambiguous as YA heroines come.
Cas was just adorable! His dry humour and eternal confusion was so endearing, while I also loved how perfectly contrasting to Em he was. They were just so perfect for each other. They often reminded me of Katsa and Po from Graceling, who's another stellar OTP I adore.
6. Ed and Lucy
From
Lucy is a huge fan of graffiti artist Shadow, and there's nothing she wants more than a chance to meet him. Ed is Shadow, however, he doesn't reveal that to Lucy when he promises her that he can help her meet him.
The romance between these two was beautiful and cute. It was sweet, awkward, beautiful, passionate, and everything that a typical teenage romance would be. I adored watching these two fall in love.
7. Cecile and Tristan
From
This is hate to love at its finest. Cecile and Tristan despise each other, and the slow burn romance is packed with angst. I don't even remember much about the book, but I remember how shipworthy this couple was. And their banter is gold.
8. Alex and Miles
From
Alex and Miles are my two precious cinnamon rolls. They were both smart, funny, cute, sassy yet such smol softies, who I want to protect at any cost. I shipped their romance soooo hard. Miles and Alex start off with hatred, banters and fights. Then it evolves into understanding, friendship, sharing and then into a perfect love story. Miles was Alex's rock throughout her journey with schizoprenia, self realization and her struggles, while Alex gave colour to Miles' life. Their relationship made me swoon, laugh and sob in a corner.
9. Mandy and Caleb
From
Resisting the Rebel is an extremely cheesy, fluffy and cliche YA romance, but what makes the ship so special to me is their resemblance to a movie OTP of mine. Layla and Warren from Sky High anyone? ( It's the best superhero movie ever, and they are the best non canon couple of all time. Period.) Mandy and Caleb is literally designed after Layla and Warren, and I was drowning in the Sky High feels throughout this book.
10. Ali and Jace
From
This book surprised me. I guess I was expecting a cheesy romance story when I started it, but it ended up being a lot more deep and emotional than I thought. It's a beautiful romance between a lead singer and a Deaf girl. Both the characters have gone through a lot, and their journey together is powerful.
Do you have any YA ships who are painfully underrated? Do you ship any of the couples I mentioned above?