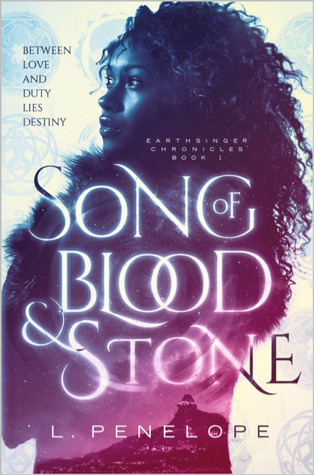 Title : Song of Blood and Stone
Author : L.Penelope
Publisher : St.Martin's Press
Release Date : May 1st 2018
Synopsis :
A treacherous, thrilling, epic fantasy about an outcast drawn into a war between two powerful rulers.
Orphaned and alone, Jasminda lives in a land where cold whispers of invasion and war linger on the wind. Jasminda herself is an outcast in her homeland of Elsira, where her gift of Earthsong is feared. When ruthless soldiers seek refuge in her isolated cabin, they bring with them a captive--an injured spy who threatens to steal her heart.
Jack's mission behind enemy lines to prove that the Mantle between Elsira and Lagamiri is about to fall nearly cost him his life, but he is saved by the healing Song of a mysterious young woman. Now he must do whatever it takes to save Elsira and it's people from the True Father and he needs Jasminda's Earthsong to do it. They escape their ruthless captors and together they embark on a perilous journey to save Elsira and to uncover the secrets of The Queen Who Sleeps.
Thrust into a hostile society, Jasminda and Jack must rely on one another even as secrets jeopardize their bond. As an ancient evil gains power, Jasminda races to unlock a mystery that promises salvation.
The fates of two nations hang in the balance as Jasminda and Jack must choose between love and duty to fulfill their destinies and end the war.
There are some fantasy novels that sweep you off your feet, because how breathtaking the world is, and how enthralling the story turns out to be. Song of Blood and Stone is such a book. I didn't start the book with high expectations, except a fervent wish that such a diverse fantasy - with a POC on the cover for that matter - should be a good read. I didn't have to worry at all, because Jasminda's story is one of a kind, and it's a book that should be read by everyone.
Jasminda is an orphan and an outsider. Living in a predominantly white Elsira, the biracial girl is shunned for her dark skin and her mighty Earthsong that isn't revered but feared. Set in a parallel 1920, yet so close to our own political climate nowadays, the Song of Blood and Stone traces the story of a girl who is torn between the country she calls her own, and the land of her ancestors, while her beautiful romance with the Elsiran solider Jack complicates things further.
Symbolic fantasies are a tricky business. Either they end up being powerful, or they end up like The Continent. But the author of this book clearly knew what she was doing. While the story had its fantasy elements and a romance that is just magical, the underlining factor of the whole book is Jasminda's inner struggle with her identity and loyalty. As a black girl who's discriminated by the white society she lives among in, it could've been easy for her to turn her back to Elsira, the country that has never treated her well, but it's also the only country she has ever known. Her conflict is portrayed so well, and handled so sensitively that you feel what she's feeling and understand her plight.
I have once read a poem called A Far Cry from Africa. ( It's worth a read, definitely check it out ) It's a moving poem which is based on the Mau Mau uprising in Kenya by Derek Walcott, a man with both African and European roots, and who was torn between his identities. There is a line that has always stayed with me, "where shall I turn, divided to the vein?" This book reminded me of that poem instantly, and resonates the same sentiment in a way that will definitely make you think.
The fantasy elements of the book was backed up by the author's gorgeous writing. Penelope's prose is stunning and lush, and her blend of history and her own imagination was seamless. There's a war between two powerful rulers and two persistent group of people, that acts as the root of the story, and it's intense, and captivating. The book has a steady pace that will keep you turning the pages.
Jasminda is a girl with a steel of spine. Her dignity and morals made me admire her, while I wanted to hug her tight for all the injustice and pain she faced. Jack is a pure soul. I don't think I have read such an unproblematic cinnamon roll of a love interest before him. He's a gentleman, understanding and is sometimes too good to be true, but I am not complaining.
The romance is interracial - Jack is a white soldier - and with that comes the usual complications, but my favourite part was how it changes the already perfect Jack as a better person. I loved the way he handled his white privilege to stand up for the right things. Plus Jack is a bit older - to be honest, the book borders on NA - so the romance has a perfect blend of mature and cheesy.
Overall, Song of Blood and Stone is a book that needs to be talked about more, and a must read. With a magical romance, vivid writing, strong characters and poignant racial undertones and powerful symbolism, this fantasy is spectacular and important.