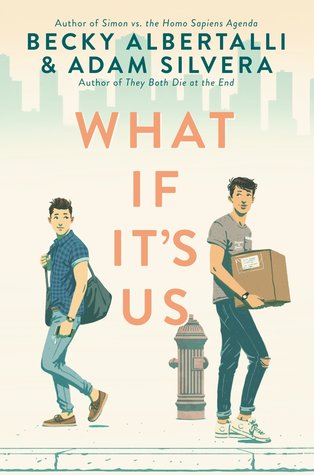 Title : What If It's Us
Author : Adam Silvera and Becky Albertalli
Publisher : Harper Teen
Release Date : October 9th 2018
Arthur is only in New York for the summer, but if Broadway has taught him anything, it's that the universe can deliver a showstopping romance when you least expect it.
Ben thinks the universe needs to mind its business. If the universe had his back, he wouldn't be on his way to the post office carrying a box of his ex-boyfriend's things.
But when Arthur and Ben meet-cute at the post office, what exactly does the universe have in store for them?
Maybe nothing. After all, they get separated.
Maybe everything. After all, they get reunited.
But what if they can't quite nail a first date . . . or a second first date . . . or a third?
What if Arthur tries too hard to make it work . . . and Ben doesn't try hard enough?
What if life really isn't like a Broadway play?
I guess What If It's Us sparks an innate curiosity in all readers who are familiar with the two authors' books. How will a book written by an author who's famous for her upbeat, feel good and heartwarming stories and another who's notorious for breaking hearts and drowning the audience in feels, end up to be? It was a question I myself was very excited to see the answer for, and the end result is a beautiful and bittersweet romance that captures both the authors' best qualities and create an altogether new impact.
What If It's Us starts out as a perfect summer romance. An adorable meet cute, two unlikely but yet very suitable boys falling for each other, discoveries, disputes, making up and some impossibly cute moments. But it also shapes out to become a very realistic love story, as it touches on the characters' insecurities, the differences in their future goals and ultimately tries to answer the question, are all perfect romance stories actually meant to be?
It's impossible not to fall for Arthur and Ben. Adam and Becky have really put themselves out in their characters, and probably my favourite thing was how distinct their individual voices are in the dual POV. I like to call them the two spectrum of Hufflepuff boys - Arthur is pure, optimistic and believes that life can be a broadway play. Ben is more cautious, he has seen and experienced things to make him a little grumpy, but man are they both two very precious cinnamon rolls.
The book is also such a love story to New York. Arthur's view of New York as this magical city brimming with opportunities and greatness is something I relate to as an outsider, but I also get why Ben is more jaded. Fun fact : I ended up reading a scene set in Central Park at Central Park! I couldn't just let it slide by, so much so that I spent the last day of my New York trip - amidst the rain, dedication guys - tracking down the places in the story, and the nerdy photo project was so much fun. Here's a glimpse for you all
The book contains aspects I love in both authors' books - supportive and wonderful parents, fleshed out side characters, great friendships - Dylan and Ben were goals - and all the feels, both sad and happy. Also kudos to all the usual pop culture references - this one had a lot of Hamilton! Plus easter eggs!!! I am so sure that one scene was a nod to History and I gasped. ( My love for that book is very intense guys ) Without spoiling much, let me also say that this is definitely the least sad book that Adam has ever written so far. A slight sadistic part of me kind of missed the deeper sorrow and emotion I usually feel when reading his books, but then I am also happy that my two precious boys don't go through too much. Also this book is going to create two very distinct sets of people who will either LOVE the ending or HATE it! I might actually be the latter, but ironically it's also a reason why I love the book. I am so sure I don't even make sense here.
Overall, What If It's Us is a very cute, very gay and very realistic romance that is a very quick read and has a lot of heart. It will make you laugh, grin, blush, cry and will ultimately become a favourite. It will satisfy all the expectations and more and is the perfect book for fans who love the feel good contemporaries and for those who like to have their hearts broken at the same time.