Hello bookworms! I have always loved doing interviews on the blog, but this one is a bit extra special. Today on the blog we have my dear friend, and the blogger extraordinaire, Cait ( a.k.a PaperFury, or according to my mother the girl in boots :D ) Cait's debut book released in June - which you all MUST read! - and she's here today to talk about the book, the representation of mental health and her transition from blogger to author among many other things!
We also tried something new! Because Cait and I are too cool and too informal to do a regular interview, we decided to do it in a discussion format, much similar to our
Eliza and Her Monsters discussion review
ages ago at Cait's blog - we are good at giving nods to ourselves, lol. This was so much fun for us to do, and I hope it is as fun to read.
P.S - We have an exciting giveaway at the end! Don't miss it.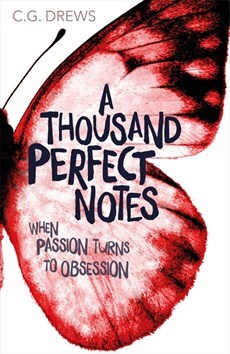 Title : A Thousand Perfect Notes
Author : C.G.Drews
Publisher : Orchard Books
Release Date : June 7th 2018
An emotionally charged story of music, abuse and, ultimately, hope.
Beck hates his life. He hates his violent mother. He hates his home. Most of all, he hates the piano that his mother forces him to play hour after hour, day after day. He will never play as she did before illness ended her career and left her bitter and broken. But Beck is too scared to stand up to his mother, and tell her his true passion, which is composing his own music - because the least suggestion of rebellion on his part ends in violence.
When Beck meets August, a girl full of life, energy and laughter, love begins to awaken within him and he glimpses a way to escape his painful existence. But dare he reach for it?
Interview
MISH
Let's start with the basics, describe the book in five words.
CAIT
Intense. Dark. Musical. Bittersweet. Hopeful.
MISH
Have to say, that's pretty accurate! ( She doesn't exaggerate with the 'dark' ,guys :D)
What inspired you to write Beck's story?
CAIT
I always wanted to do a lowkey retelling of a historical classical composers' life (I won't give the name because it's a mini-spoiler for the book!), so Beck's story formed from there. I also wanted to have a little gender-swapped Cinderella vibe in there, which is how Beck came to be a boy struggling to meet his mother's impossible expectations to play the piano perfectly.
MISH
Actually I have to say, it was very interesting to read a retelling about an actual person's life. Also I never thought of Cinderella before, but now that you mention it, it makes perfect sense!
CAIT
August makes a lovely Prince(ss) Charming, doesn't she?! And Uncle Jan functions as a bit of a fairy godmother towards the end!
MISH
Especially with sweeping the damsel off his feet :D Oh yes, Uncle Jan!
Speaking of August, did that name come by because of This Savage Song by any chance :D ? ( The Schwab fan couldn't resist )
CAIT
Ha! I knew I would get asked that eventually! But no, actually, my August Frey's name is inspired from the movie "August Rush". I actually wrote A Thousand Perfect Notes in 2015 and didn't read This Savage Song until 2016...but the similarity hit me so hard when I read about August Flynn, a monster violinist...with exactly the same initials as my August. Clearly Schwab and I have excellent taste in names and are pretty much brain twins. :')
MISH
I knew I loved you for a reason Cait :D They are similar, especially they are two adorable cinnamon rolls. Moving on, the book deals with some heavy mental health representation, some might even need a content warning there, so do you mind elaborating on that a bit?
CAIT
I definitely do delve into some darker themes, and one thing I wanted to contrast was the Maestro and Beck's mental health issues and how differently they present. The Maestro responded to her pain with violence to others, while Beck responded to his by finding a supportive friend. There's trigger warnings for abuse and violence and some self-harm thoughts (not acted upon) and child neglect.
MISH
A protagonist and a villain - if I could call her that - both having mental health problems was a beautiful contrast for sure. I personally connected to Beck's anxiety a lot - especially performance anxiety - and I felt like you represented that so well. Plus the anxiety of a student, with a teacher like the Maestro can be very dark, and how did you manage to portray those emotions?
CAIT
I also had really bad performance anxiety when I used to play piano, although I had a lovely teacher unlike poor Beck. (I'm so sorry Beck!) Getting into Beck's headspace was about empathy. While writing, I would craft the situation and then just imagine what Beck would feel as he went through it.
MISH
I had nightmare piano lessons. Not because of the teacher, but mostly because of myself. I had no music in me, and I was so hard on myself, because I was so ambitious. Phew, I am glad I gave up. Do you think the concept of music teachers - and teachers of performing arts in general - being extremely strict is a mere stereotype, or is it true to a certain extent?
CAIT
Oh I do think both! It can be a bit of a stereotype (with movies like Whiplash and Shine touching on it too) but it's also unfortunately a reality. I think musical careers tend to be extremely competitive. So if you're not "the best" you often have no place and don't get the top opportunities. Which does make for some seriously stressed and obsessed teachers. I have known some in my time (although not to the Maestro's extent) and heard of some other scary ones from friends.
MISH
Coming back to the Maestro, she was absolutely horrible, both as a mother and a teacher - and I remember texting you with a lot of , "I HATE HER" while reading it. However, there are still some instances where I actually got her, and hated her again the next moment. How did you manage to create a villain with such depth and emotions?
CAIT
With a lot of rewrites, haha! Actually in the original draft, the Maestro didn't even exist...and then, as she came into the story and began to develop, I tried to make her perspective clear: she wants her son to be The Best and thinks that bullying (and very literally abusing him) into that is the way to go. Obviously she was completely wrong and awful and caught in a poisonous cycle of thinking she "loved" her children if she treated them that way. So I hate the Maestro too! But I'm glad she came across as a complex villain.
MISH
Oh she was. There are times, that I felt her frustration - and that scared me. And I totally can't imagine ATPN without her! :D Another conflict I felt in the book is between the expectations on Beck to play the best music and his own desire to create his own. I felt like it was a conflict all artists feel in a way, and did you draw that from your own experience?
CAIT
(Trust me the first draft was a hot mess! It did noooot work. Ha!) So yes! Beck would dive into his own compositions as a way to escape the Maestro's (impossible) expectations, because if he was composing music, it was his. It belonged to him. He wasn't wrong. He was doing something that wasn't tainted with failure already. As a writer, I definitely have felt I'll never write "well enough", so I guess I drew off that a little!
MISH
Since we talked about serious aspects, let me ask you a fun yet impossible question, who is your favourite character out of the lot?
CAIT
JOEY!! Joey's shenanigans were my favourite to write and she pretty much stole the show whenever she was on page! (Shh don't tell the others I picked a favourite.)
MISH
THAT she did! :D I love Beck myself though, that boy needs a huge hug.
Moving on to your journey as an author, how have the whole transition from being a blogger to a published author been like?
CAIT
Ohhh, it's still tricky! I don't want to quit blogging but it is harder than I anticipated to balance the two. I definitely don't expect everyone to love my book, but I also am steering WELL clear of negative reviews. But as a blogger, it's hard not to stumble on them? Also keeping up my (wildly ambitious haha) expectation of bringing out blog posts, upkeeping social medias, and reading hundreds of books per year...plus writing! Sheesh. I need a nap, Mish. Also some chill.
MISH
Maybe you need to execute that cloning idea of yours. Or get a sidekick for the world domination. Also do you think being a reviewer has led to you being hard on yourself as a writer? Or do you think it was an advantage because you are more aware?
CAIT
(I'm trying to train up my dog to answer a few emails?? But he is 100% useless. Just eats my socks tbh. Decent secretaries are impossible to find.) I'm actually glad I was a blogger while I worked towards being published! I've learned a lot from being part of the "audience" and listening to what people want, things that are problematic, and taking onboard advice and opinions! (Although not all the opinions. It's impossible to please everyone, and every writer has to remember that!)
MISH
Poor Atticus, lol. Have the way you review books changed because now you're more sympathetic as an author?
CAIT
I've basically decided not to write negative reviews anymore! Half of that is because of knowing how much they suck to get as an author, and half is because I feel weird critiquing my peers now! (But I have zero qualms against others writing negative reviews!)
MISH
Ah, those changing dynamics, I hope they're not too hard to adjust to. Anyway, the book has been published in the UK and Australia so far, any chance of US or other international rights?
CAIT
I don't have any news about it coming out in the USA at this point (we can hope!) but it's being translated into Polish in early 2019 and one other European country that I can't say yet!
MISH
Fingers crossed. What are you working on right now, and what's next, basically, if you're allowed to share?
CAIT
I am working on a few secret projects that I can't talk about yet. ;) Buuut...in April 2019 my second book, The Boy Who Steals Houses, is coming out! I've been doing edits for it recently and seeing it turning slowly into a real book is always so exciting! This book isn't a sequel to ATPN, but it's set in the same world and it's about two brothers who break into houses when the owners' are holidaying. It's full of very bad decisions, a big messy family, a lot of brownies, and you can expect the same amount of darkness that ATPN has.
MISH
It won't be your book unless you torture those poor darlings and prompt me to send you furious texts. Finally, what would you like to say to aspiring authors, especially those who are bloggers and/or international?
CAIT
My first advice is always: KEEP WRITING. Even when you think your work sucks or will never be as good as [insert your favourite author here]...trust me, you get better the more you write. ATPN actually the 16th draft I've written! I've learned so so much just from keeping on going. And secondly, with being a blogger, I think it can be daunting listening to all the opinions and reviews and knowing you might mess up. So, yes, we should listen and learn from others -- but ultimately you can't please everyone. Write your book for you. And write the book you want to read. And remember your voice and story is important!
MISH
Thank you Cait! Hope you guys enjoyed our discussion! Do check out the giveaway below!
Giveaway
Enter to win a signed bookmark and bookplate! Open INTL
a Rafflecopter giveaway