Happy Ben and Arthur day!!! What If It's Us is officially out in the world, and today I welcome you to my stop of the international blog tour. My awesome friend JM is hosting the tour in partnership with HarperCollins International, and make sure to check all the stops out.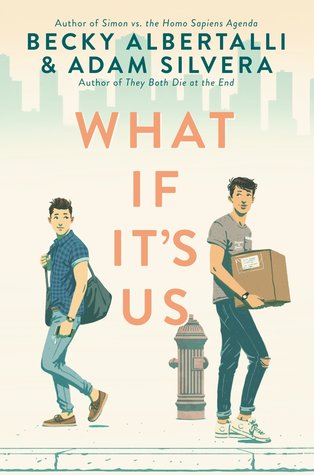 Title : What If It's Us
Author : Adam Silvera and Becky Albertalli
Publisher : Harper Teen
Release Date : October 9th 2018
Arthur is only in New York for the summer, but if Broadway has taught him anything, it's that the universe can deliver a showstopping romance when you least expect it.
Ben thinks the universe needs to mind its business. If the universe had his back, he wouldn't be on his way to the post office carrying a box of his ex-boyfriend's things.
But when Arthur and Ben meet-cute at the post office, what exactly does the universe have in store for them?
Maybe nothing. After all, they get separated.
Maybe everything. After all, they get reunited.
But what if they can't quite nail a first date . . . or a second first date . . . or a third?
What if Arthur tries too hard to make it work . . . and Ben doesn't try hard enough?
What if life really isn't like a Broadway play?
1. It's the author collab of our dreams
Author collabs are always exciting, but when it's two well loved authors who are best friends, and have similar yet so different styles of writing? It's the collab of the century you all. What If It's Us has the signature styles of both Adam and Becky splattered all over, and you can literally pick apart who might have come up with what incident.
It captures both the authors' best qualities and create an altogether new impact.
2. It's a romance between a cynic and a cinnamon roll
Ben and Arthur are both precious humans who needs to be protected at all costs. What makes them so beautiful is that they're opposites. Arthur is the naive, precious, optimistic darling of Becky's creation, while Adam's signature character style shines through Ben in all his cynicism and emotions. These two are the best foils of each other, and their romance is to die for.
3. It's the perfect NYC summer romance
I am not a huge fan of cliche summer romances, but even I have to admit that it's a season that brings new possibilities, chance encounters and a perfect opportunity for a romance. What If It's Us is so pure, so cute and the perfect gay rom com set in a realistic backdrop of New York. It's all about possibilities, and how fate and coincidence might bring together two individuals or tear them apart forever.
4. It's bittersweet and heart warmingly real
I mean the feels are pretty much guaranteed in this book. The book is cute, but it's also very real and very bittersweet and will drown you in all the emotions by the end. But I can give you one slightly spoilery comfort though - this would be the least sad Adam Silvera book you'll read, so at least you don't have to brace yourselves for the ultimate heartbreak.
P.S : If you're true Adam Silvera fan, you'll know why this list stopped at 4 and didn't go to 5 :D
P.P.S. Check out my full review
here
Giveaway
a Rafflecopter giveaway
Open internationally (
with the exception of the
UK, South Africa
,
Australia
, and
India
due to publishing / selling rights)
There's also exciting giveaways on
twitter
and
instagram
!